FESTIVALS AND EVENTS IN USA
---
Sasquatch Music Festival
May
Sasquatch! Music Festival is a music festival held annually at the Gorge Amphitheatre in George, Washington. It is presented by the House of Blues. The Sasquatch! Music Festival was founded in 2002 by Pacific Northwest-based concert promoter Adam Zacks. Prior to the inception of the festival, Zacks booked and managed shows at the Roseland Theater in Portland, Oregon. There is an emphasis on indie rock bands and singer-songwriters, although there are also alternative rock, hip hop and comedy acts. In the past few years electronic dance musice (EDM) has been integrated into Sasquatch! making it a well rounded and eclectic experience for people of all musical tastes. The festival features five separate stages (Sasquatch! Main Stage, Bigfoot Stage, Banana Shack, Yeti Stage & the newly added in 2012 Maine Stage). Tickets are $315.00 for a 4-day pass, which includes standard camping. Past headliners have included Massive Attack, Jack White, Beck, Tenacious D, The Shins, Explosions in the Sky, Santigold, Foo Fighters, The Flaming Lips and many more.

Info: info@sasquatchfestival.com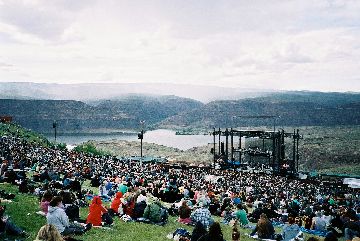 Sasquatch Music Festival
Bonnaroo Music Festival
June
The Bonnaroo Music and Arts Festival is an annual four-day music festival created and produced by Superfly Presents and AC Entertainment, held at Great Stage Park on a 700-acre (2.8 km²) farm in Manchester, Tennessee, USA. It hosted its eleventh annual event June 7–10, 2012. The main attractions of the festival are the multiple stages of live music, featuring a diverse array of musical styles including indie rock, world music, hip hop, jazz, americana, bluegrass, country music, folk, gospel, reggae, electronica, and other alternative music. The festival began with a primary focus on jam bands and folk rock; it has diversified greatly in recent years but continues to pay tribute to its roots. Past notable acts include Metallica , Radiohead, Red Hot Chili Peppers, Alice Cooper, Kenny Rogers, The Beach Boys, Phish, Stevie Wonder, Johnny Cash, The White Stripes, Neil Young, Pearl Jam, Tom Petty, The Dead, The Allman Brothers Band, James Brown, Bon Iver, The Flaming Lips, Willie Nelson, Jay-Z, The Black Keys, Dave Matthews Band, Buffalo Springfield, Arcade Fire, The Strokes, The Black Crowes. The festival features craftsmen and artisans selling unique products, food and drink vendors, a comedy tent, silent disco, cinema tent, and ferris wheel.

E-mail: info@bonnaroo.com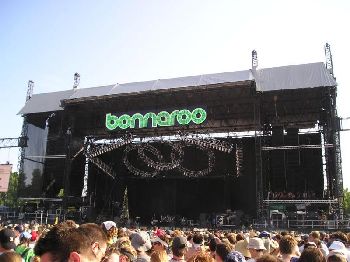 The Main Stage at Bonnaroo
Photo: Shawn Mariani
Lollapalooza
August
Lollapalooza is an annual music festival featuring popular alternative rock, heavy metal, punk rock and hip hop bands, dance and comedy performances, and craft booths. It has also provided a platform for non-profit and political groups. Conceived and created in 1991 by Jane's Addiction singer Perry Farrell as a farewell tour for his band, Lollapalooza ran annually until 1997, and was revived in 2003. The music festival hosts more than 160,000 people over a three day period. Lollapalooza has featured a diverse range of bands and has helped expose and popularize artists such as Beastie Boys, Coldplay, Stone Temple Pilots, Depeche Mode, Deadmau5, Foo Fighters, Red Hot Chili Peppers, Pearl Jam, The Cure, Primus, The Killers, Rage Against the Machine, Arcade Fire, Nine Inch Nails, Jane's Addiction, X Japan, Audioslave, Siouxsie and the Banshees, The Smashing Pumpkins, Muse, Alice in Chains, Björk, MGMT, Foster the People, Tool, Hole, Body Count, Ice-T, Queens of the Stone Age, The Drums, The Strokes, Arctic Monkeys, Calvin Harris, Thenewno2, Fishbone, Butthole Surfers and Lady Gaga.
South by Southwest
March
South by Southwest (SXSW) is a set of film, interactive and music festivals and conferences that take place every spring (usually in March) in Austin, Texas, United States. SXSW began in 1987, and has continued to grow in size every year. In 2011, the conference lasted for 10 days, with SXSW Interactive lasting for five, Music for six, and Film running concurrently for nine days. SXSW Music is one of the largest music festivals in the United States, with more than 2,000 performers playing in more than 90 venues. SXSW Film festival, focusing on new directing talent. SXSW 2012 ran from March 9 to 18. SXSW Film saw the premiere of two major Hollywood films: The Cabin in the Woods and 21 Jump Street. 2012 was also the first year the music portion was expanded to Tuesday. The musical festival included rappers such as Talib Kweli and Lil' Wayne, along with surprise appearances by Big Sean and Kanye West. Bruce Springsteen was the keynote speaker opening the music portion of the 2012 festival.
Mailing Address: SXSW Inc. PO Box 685289 Austin, TX 78768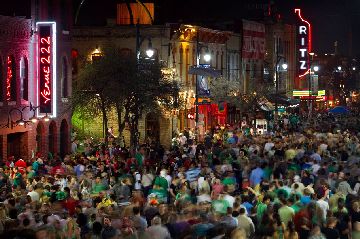 South by Southwest, Austin, Texas
Waterfront Blues Festival
July
The Waterfront Blues Festival is an annual event in Portland, Oregon, United States featuring three to five days of performances by blues musicians. The festival started in 1988 and takes place in Tom McCall Waterfront Park, along the west bank of the Willamette River in downtown Portland. It is the largest blues festival on the West Coast and the second-largest blues festival in the nation, with recent events attracting 120,000 blues fans from throughout the world with more than 150 performances on four stages. The festival began in 1987 as the Rose City Blues Festival, sponsored by the Cascade Blues Association, to benefit the Burnside Community Council's projects for the homeless. The FM community radio station KBOO has broadcast performances from the event, throughout the festival's history. The festival celebrated its twentieth anniversary in 2007, earning the Rose City Award from the Portland Oregon Visitors Association and an official U.S. Post Office postmark commemorating the festival. Sponsors of the festival have included Miller Genuine Draft, Albertsons, and Safeway. Throughout its history, the festival has raised millions of dollars and hundreds of thousands pounds of food.
General Information: Oregon Food Bank P.O. Box 55370 Portland, OR 97238-5370
Phone: 503-282-0555
E-mail: info@travelportland.com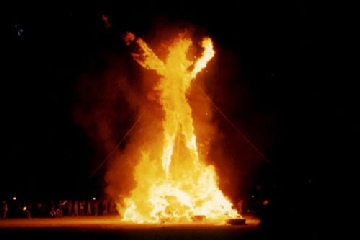 Burning Man Festival
Photo: Aaron Logan
Burning Man Festival
August-September
Burning Man is a week-long annual event held in the Black Rock Desert in northern Nevada, in the United States. The event begins on the last Monday in August, and ends on the first Monday in September, which coincides with the American Labor Day holiday. One of the roots of the annual event now known as Burning Man began as a bonfire ritual on the summer solstice in 1986 when Larry Harvey, Jerry James, and a few friends met on Baker Beach in San Francisco and burned a 9-foot (2.7-meter) wooden man as well as a smaller wooden dog. Harvey has described his inspiration for burning these effigies as a spontaneous act of "radical self-expression". The 2012 Burning Man Festival took place between August 27 and September 3. It takes its name from the ritual burning of a large wooden effigy on Saturday evening. The event is described by many participants as an experiment in community, art, radical self-expression, and radical self-reliance. In 2010, 51,515 people attended Burning Man. 2011 attendance was capped at 50,000 participants and the event sold out.