FESTIVALS AND EVENTS IN THE UK
---
Glastonbury Festival
June
The Glastonbury Festival is a performing arts festival that takes place near Pilton, Somerset, England, best known for its contemporary music, but also for dance, comedy, theatre, circus, cabaret and other arts. Leading pop and rock artists have appeared as headline acts with thousands of others appearing on smaller stages and performance areas. The festival has also spawned films and albums and is reported on extensively on television and in newspapers. The size and nature of the festival, held over three or four days in the open air, with performers, crew and paying festival goers staying in tents, caravans and motorhomes, has meant that the weather is significant. It is now attended by around 150,000 people requiring extensive infrastructure in terms of security, transport, water and electricity supply. Only a select few acts have been awarded headlining status at Glastonbury Festival on more than one occasion. The current record is three times, held jointly by Van Morrison, Elvis Costello, The Cure and Coldplay.

Info: office@glastonburyfestivals.co.uk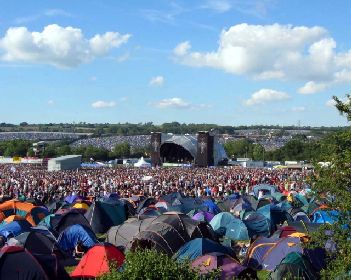 Glastonbury Festival's "Other Stage" with tents in the foreground


Travelling to the festivals you love has never been more easier with Expedia.co.uk



Reading and Leeds Festivals
August
The Reading and Leeds Festivals are a pair of annual music festivals that take place in Reading and Leeds in England. The events take place simultaneously on the Friday, Saturday and Sunday of the August bank holiday weekend. The Reading Festival is held at Little John's Farm on Richfield Avenue in central Reading, near the Caversham Bridge. The Leeds event is held in Bramham Park, near Wetherby, the grounds of an historic house. Campsites are available at both sites and weekend tickets include camping. Day tickets are also sold. The Reading Festival, the original and senior leg of the two, is the world's oldest popular music festival still in existence. The festival typically has the following stages: main stage – major rock, indie, metal and alternative acts, NME/Radio 1 stage – less well-known acts, building up to an alternative headline act, Festival Republic stage (formerly known as the Carling stage) – acts with less popular appeal and breakthrough acts, Lock Up Stage – underground punk and hardcore acts, Dance tent – dance music acts, on the day that the Lock Up Stage does not run, Alternative tent – comedy and cabaret acts plus DJs, BBC Introducing Stage – Typically unsigned acts. The 2012 festival took place over the weekend of 24–26 August. The pre-sale tickets were available in early December 2011.

Located At: Festival Republic, 35 Bow Street, Covent Garden, London WC2E 7AU
E-mail: Reading@FestivalRepublic.com
See Tickets credit card booking line 0870 060 3775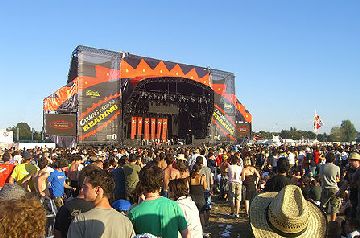 Reading Main Stage
London Film Festival
October
The BFI London Film Festival is the UK's largest public film event, screening more than 300 features, documentaries and shorts from almost 50 countries. The Festival showcases the best of world cinema to champion creativity, originality, vision and imagination, and presents the finest contemporary international cinema from both established and emerging film-makers. Set in the Autumn, the festival hosts high profile awards contenders, screens recently restored archive films, champions new discoveries and combines curatorial strength with red carpet glamour. It also provides an extensive programme of industry events, public forums, education events, lectures, masterclasses and Q&As with film-makers and film talent. The Sutherland Trophy is given to the most original and innovative first feature in the London Film Festival. Named after the BFI's patron, this award boasts recipients as noteworthy as Bertolucci, Fassbinder, Godard and Antonioni.
The Big Chill
August
The Big Chill is an annual festival of alternative, dance and chill-out music and comedy, held in the grounds of Eastnor Castle during early August. The 2011 line up included The Chemical Brothers, Kanye West, Rodrigo Y Gabriela, Jessie J, Robert Plant, Calvin Harris, Aloe Blacc, Chipmunk, Katy B & Example. The festival is situated in the grounds of Eastnor Castle near Ledbury in Herefordshire. The grounds are normally used as a reserve for deer. The organisers encourage a "leave no trace" policy to dissuade people from littering the site. Camping is divided into Red, Blue, Green and Purple areas, as well as Family Camping, Quiet Camping and Accessible Camping.
Postal Address: Big Chill c/o Festival Republic, 35 Bow Street, Covent Garden, London WC2E 7AU
E-mail: info@bigchill.net
V Festival
August
The V Festival is an annual music festival held in England during the penultimate weekend in August. The event is held at two parks simultaneously which share the same bill; artists perform at one location on Saturday and then swap on Sunday. The sites are located at Hylands Park in Chelmsford and Weston Park in South Staffordshire. Although predominantly a rock music festival, a wide range of musical genres are accepted; in recent years pop acts have become more common. In 2012 V Festival was headlined by The Stone Roses, David Guetta, Ed Sheeran, The Killers, Nicki Minaj, Nero and Australian Pink Floyd.
E-mail: hello@vfestival.com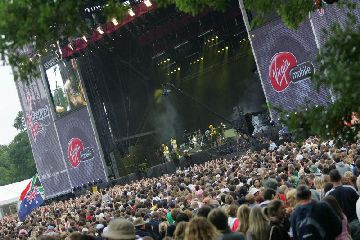 V Festival
Bestival
September
Bestival is a four-day music festival held at the Robin Hill country park on the Isle of Wight, England. It has been held annually in late summer since 2004. The event is organized by DJ and record producer Rob da Bank and is an off-shoot of his Sunday Best record label and club nights. The initial Bestival attracted 10,000 people, growing to 55,000 in 2010. In 2006 it was voted the Best (Medium-sized) Festival at the 2006 UK Festival Awards, and it was voted the best major UK festival in the UK festival awards 2010. The Bestival is often described as a "boutique festival" due to its non-corporate feel. It is also known for piloting odd and innovative ideas, including an inflatable church where people can get married. Other features include the "Breastival", a quiet Yurt designated for mothers and their breast-feeding children. The local Women's Institute has also been involved by providing refreshments for a minimal price. The festival is also heavily involved in supporting social, political and environmental causes. In 2012 there were several main venues. The main stage headliners were Florence + the Machine on Friday, New Order on Saturday and Stevie Wonder who closed the main stage on Sunday, playing as a UK festival exclusive. Sigur Rós and The XX both performed UK festival exclusives on the main stage.
Tel: Tel: 020 3327 4810 (Monday to Friday: 10am-6pm)
Post: 19 Buckingham Street, Lower Ground Floor, London WC2N 6EF
E-mail: hello@bestival.net