FESTIVALS AND EVENTS IN TUNISIA
---
International Festival of the Sahara
December
The International Festival of the Sahara in Douz is an annual festival in Tunisia. The very first festival, called the Camel festival, began in 1910 when Tunisia was under French rule. Since then, every year at the end of December for four days, thousands of people, mostly from all over Tunisia and other Maghrebien countries flock to Douz. After the official opening ceremony, the main events take place in the H'naiech stadium in front of the desert surrounded by Bedouin tents. Camel marathons, fantasia- galloping Arab horses ridden by daring riders, a Bedouin marriage, sloughi desert hunting dogs - catching rabbits are the principal features. In the evening, groups from visiting countries perform popular songs and dances. The central event is the annual poetry contest run by the famous desert poet, Abdellatif Belgacem in order to keep poetry alive, which represents the desert's principal communication medium.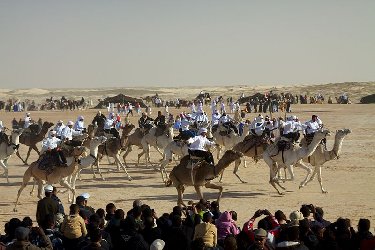 Camels at Festival of the Sahara
Photo: McKay Savage
Eid-ul-Fitr
August
Eid Al-Fitr is a Muslim holiday that marks the end of Ramadan, the Islamic holy month of fasting. The religious Eid is a single day and Muslims are not permitted to fast that day. Eid is an Arabic word meaning "festivity", while Fiṭr means "breaking the fast". The holiday celebrates the conclusion of the 29 or 30 days of dawn-to-sunset fasting during the entire month of Ramadan. This is a day where Muslims around the world try to show a common goal of unity. On Eid Al-Fitr in Pakistan, Muslims read Eid Salaat then go to places to enjoy Eid. There are games, rides and different kinds of food in towns and villages. In the city, there is a lot of rush and traffic. In the morning, after Eid Salaat, Pakistanis' make dishes like Halva served with Puri bread or Naan. Later in the day, some people give away free food to their neighbors. Sometimes, when the mosque doesn't have enough space, people read outside.
Festival of Ksour
March
At the festival of Ksour, you can enjoy some fine local music and dance performances. The ghortas (grain stones) created by weathering resemble huge mushrooms, and the inhabitants carve their dwellings out of the sandy rock. Witness some fine music and dance, and follow the natives' lead by sleeping in underground rooms away from the heat. On visiting the place, you might some similarity between the galaxy scenes from the George Lucas famous film Star Wars and the lunar-like landscape of Tunisian desert.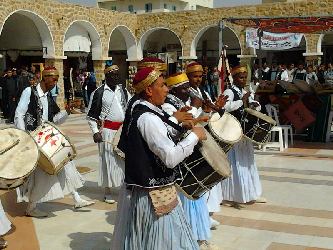 Festival of Ksour
Photograph: Wael Ghabara
Carthage Film Festival
October-November
The Carthage Film Festival is a biannual October film festival hosted by the government of Tunisia. It alternates with the Damascus International Film Festival. It is a meeting place for international film industry professionals. An average of 200,000 tickets are sold over a period of ten days. A crop of films are selected from around the world for every year to satisfy the most demanding movie buff. The festival is also an opportunity for meetings and debates of current topics. Rooted in its Arab and African specificities, this meeting of filmmakers, producers, critics, moviegoers from the North and South has combined an abundance of films, the spirit of closeness between professionals and film buffs and a real sense of partying. The grand prize is the Tanit d'or, or "Golden Tanit," named for the lunar goddess of ancient Carthage; the award is in the shape of her symbol, a trapezium sumrounted by a horizontal line and a circle.

Mailing address: Carthage Film Festival JCC 2012 - BP N°46 - 1008 Tunis Bab Menara Tunisie
Tel: (+216) 71 570 280 - (+216) 71 572 947
E-mail: contact@jccarthage.com