FESTIVALS AND EVENTS IN SINGAPORE
---
National Day and National Day Parade
August
The National Day of Singapore is celebrated every year on 9 August, in commemoration of Singapore's independence from Malaysia in 1965. This holiday features a National Day Parade, an address by the Prime Minister of Singapore, and fireworks celebrations. On the 2nd/3rd Sunday after the National Day, the Prime Minister of Singapore makes an annual address to the nation, called the National Day Rally. A yearly event since 1966, the Prime Minister uses this rally to address the nation on its key challenges and its future directions. Firework celebrations feature several local and foreign teams which launch fireworks displays on different nights.

The Singapore National Day Parade is a national ceremony that is usually held at the National Stadium or the Padang. The upcoming parade, National Day Parade, 2013, will be held at The Float at Marina Bay. Since 2000, every year's parade would revolve around a theme which would guide the planning of the parade and show. Participants of the parade include members of the Singapore Armed Forces, Singapore Police Force, Singapore Civil Defence Force, representatives of the People's Action Party, different labour unions (including members of the National Trades Union Congress) and Ministries as well as students in uniformed groups (such as the National Cadet Corps, National Police Cadet Corps, National Civil Defence Cadet Corps, the Singapore Red Cross, the Boys' and Girls' Brigades, the Scouts Association, the Girl Guides and St. John Ambulance Brigade) and representatives of various Singapore business entities. The flypast of various military aircraft on the parade shows the country's military air offensive and defensive capabilities.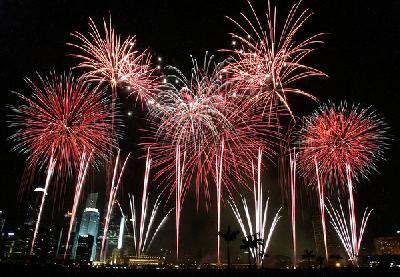 Singapore National Day Celebrations
Photograph: Sehsuan
Singapore International Film Festival
April-May
The Singapore International Film Festival (SIFF) is the largest, longest-running film festival in Singapore, and one of the most important in the region. It is held around April/May each year, and screens about 300 films from over 45 countries. Besides screening award-winning and critically acclaimed films, the festival also features workshops, seminars and exhibitions on film-making for film students and the film industry. Originally launched to give local audiences a chance to see independent and non-commercial films, the festival is now recognised worldwide by film critics for its focus on Asian filmmakers and promotion of neglected Southeast Asian films. Many international critics attend this festival to see Asia's new and bright talents. To encourage the Asian film-makers, the SIFF introduced the Silver Screen Awards Competition in 1991. The Awards have become regionally recognized and Asian film-makers vie to have their films entered to gain exposure in world markets. Some internationally-recognised winners of the awards include: Chen Kaige, Park Kwang-Su, Tsai Ming-liang, Edward Yang.

Address: Singapore International, Film Festival, Secretariat Office,
521 Bukit Batok Street 23, Excel Building #02-07, Singapore 659544
SIFF Team: Singaporeiff25@gmail.com
Mosaic Music Festival
March
Mosaic Music Festival is an annual 10-day long music festival in Singapore that features both local and overseas acts. It showcases a variety of music genres, ranging from indie-folk to hip-hop. It aims to provide a platform for interaction between Singapore and International artistes. The performances are held at various venues at the Esplanade - Theatres on the Bay. The team behind Mosaic expanded its jazz and world-music repertoire to include folk and rock acts. The aim is to cater to all age groups with a range of music, from experimental to jazz to classical. And it is not just about showcasing the music; the Esplanade also hopes to provide opportunities for audiences to get to know the artists and their personalities. The Heineken Music Club is a popular venue at Esplanade's annual Mosaic Music Festival. Known for its intimate, personal setting (capacity of approximately 220) the Heineken Music Club has enjoyed near sold-out performances since 2007. The venue provides a unique setting for audiences to get closer to world-class cutting edge music from around the globe.

Address: The Esplanade Co. Ltd, 1 Esplanade Drive, Singapore 038981
Contact Number: +65 6828 8377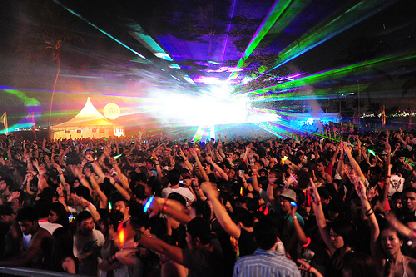 ZoukOut dance music festival
ZoukOut
December
ZoukOut is an annual dance music festival held in Singapore since 2000. It is one of Asia's biggest music dance festivals. It is usually held at one of the beaches on Sentosa island. ZoukOut has hosted over 150 international and local acts, almost a quarter of a million partygoers and over 350 hours of non-stop music and entertainment over the span of 10 years. Musical genres at ZoukOut include House, Techno, Trance, Electro, Alternative/Indie-Electronic, Hip-Hop and of course the inimitable Mambo Jambo, the iconic clubbing night, playing the classic anthems from the 80's to rocking present-day tunes. DJs that have performed at ZoukOut include Paul Van Dyk, 2ManyDJS, Masters at Work, Gilles Peterson, Richie Hawtin, Sven Všth, Peter Kruder, James Lavelle, Armin Van Buuren and Stereo MCs. Come Dec 11, Siloso Beach will again turn into a magical arena of top quality electronic music featuring spectacular lights and pyrotechnics.

Ticket enquiries: reservations@zoukclub.com
Tel: +65 67382988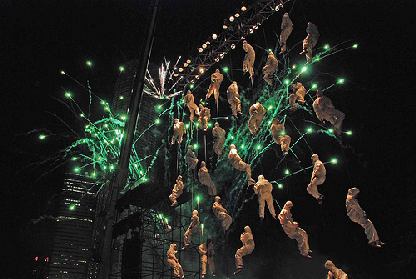 The official opening of the 30th Singapore Arts Festival
Photograph: Choo Yut Shing
Singapore Arts Festival
May-June
The Singapore Arts Festival is an annual arts festival held in Singapore. Organised by the National Arts Council, it is one of the most significant events in the regional arts scene. The Singapore Arts Festival started in 1977 as a national arts festival to celebrate local arts from the diverse communities in Singapore. The festival, usually held in mid-year for a stretch of one month, incorporates theatre arts, dance, music and visual arts, among other possibilities. Today, the Singapore Arts Festival has become an international showcase with a distinctive Asian flavour, known for its bold and innovative collaborations at the cutting-edge of contemporary arts. World-renowned acts such as theatre director Robert Wilson and avant garde music composer Phillip Glass have performed in Singapore during the Arts Festival, alongside Singaporean greats such as theatre director Goh Boon Teck. The Singapore Arts Festival continues to push the artistic envelope with some of the most innovative and experimental performances in an array of artistic mediums.