FESTIVALS AND EVENTS IN RUSSIA
---
White Nights Festival
May-July
The White Nights Festival in St. Petersburg is an annual international arts festival. The festival begins in May with the "Stars of the White Nights" at Mariinsky Theatre and ends in July. However, some performances connected to the festival take place before and after the official dates. The White Nights Festival consists of a series of classical ballet, opera and music events and includes performances by Russian dancers, singers, musicians and actors, as well as famous international guest stars. The Scarlet Sails celebration is the culmination of the White Nights season, the largest public event anywhere in Russia with the annual estimated attendance about one million people, most of whom are students from thousands of schools and colleges, both local and international. The Scarlet Sails is highly popular for its spectacular fireworks, numerous music concerts, and a massive water show including battles between dozens of boats full of pirates on the waters of the Neva river. In 2010, public attendance grew to 3 million, and entertainers were such stars as the Cirque du Soleil, Mariinsky Ballet and Antonio Banderas, among others.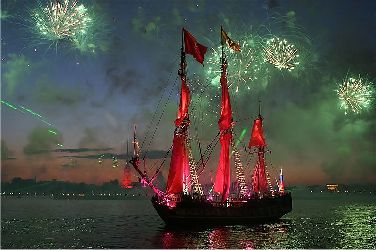 Firework on Scarlet Sails
Photograph: Marina Lystseva
Afisha Picnic
July
The Afisha Picnic is a one-day outdoor festival held in Moscow, Russia every summer. It takes place on the territory of Kolomenskoye, a former tsar's estate, now a state-owned historical, architectural and nature reserve museum, located only 10 km south-east of the city center. the Afisha Picnic has followed the concept that mixes professional music festival featuring performances of international artists and local independent musicians, and urban-style event with all sorts of entertainment, such as designers' market, gastronomic area, games and crafts, sports and amusements, lectures and workshops. Music is the key element of the festival. The number of stages varies each year. The Main Stage features big international and Russian acts. Some headliners that performed at the Afisha Picnic are Courtney Love and Hole, Madness, Amanda Palmer, Kaiser Chiefs, The Future Sound of London, Marina and the Diamonds, M83, Calla, Sons and Daughters, Buck 65, Beirut, Dengue Fever, Clinic, Múm, Dälek, Junior Boys, Martina Topley-Bird, DeVotchKa, Black Lips, The Teenagers, Someone Still Loves You Boris Yeltsin, HushPuppies, These New Puritans.

General Information: picnic@afisha.ru
Nashestvie
August
Nashestvie is one of the largest open-air festival of Russian rock, organized by Nashe Radio station. It is held annually during the first weekend of August somewhere in the environs of Moscow, Russia. Nashestvie changed its venue several times: it was initially set in Ramenskoye, Moscow Oblast, but recently it moved northwest to Tver Oblast. Nashestvie is participated by majority of Russia's most popular rock artists (such as Aria, Alisa, Agatha Christie, Splean, Korol i Shut), as well as bands from Ukraine and Belarus, such as Okean Elzy or Lyapis Trubetskoy. Most of the headliners represent usual Nashe Radio playlist.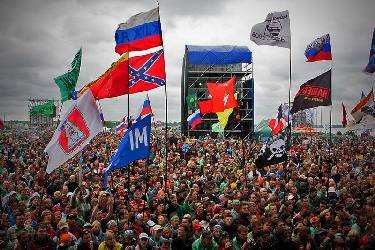 Nashestvie Rock Festival
Photograph: Anton Belickiy
Vladivostok Biennale of Visual Arts
September
The Vladivostok Biennale of Visual Arts is an international festival of contemporary and modern visual art, held every two years in Vladivostok, Russia. The first Biennale was held in April, 1998 in Vladivostok. Then there was presented theatre art only, but after that first Biennale there were made a decision to move beyond the theatre Biennale and turn it into Biennale of visual arts. In 2011 the 7th Vladivostok Biennale of visual arts was held from 11 to 15 of September. The main directions of Seventh Biennale were cinematography, dramatics, video art, art and ethno. The Biennale is open to Russian and foreign culture and art workers, separate authors and collectives with their projects, delegations may include authors, participants, organizers and curators of modern actual projects on the main topics of Biennale, artists, photographers, designers, sculptors, artists and actors, representatives of other creative professions of the sphere of art, culture and art workers, the officials that support actual creative projects.

Tel: 7 (423) 24 111 28
E-mail: info@biennale.me
Open Look
June
Open Look is a major annual contemporary dance festival presented by Dance House "Kannon Dance" in St.Petersburg, Russia. The festival is an international event offering training and performance programs that cover a wide range of contemporary dance forms. Established in 1999 as a means to introduce new audiences to dance and held each summer during the beautiful St.-Petersburg White Nights it gathers hundreds of professional dancers, choreographers and teachers from all over the world for a two-week program of performance and intensive workshops by well known dance masters. The festival presents a concert program featuring performers from abroad and Russia on several stages of St.-Petersburg. The main aim of the festival is to share the best of Western culture with Russian public and dance society, to provide atmosphere and space for international artistic collaboration, knowledge, experience exchange, creative work, and education.