FESTIVALS AND EVENTS IN NORTHERN IRELAND
---
Belfast Festival at Queen's
October-November
The Ulster Bank Belfast Festival at Queen's is an annual arts festival held in Belfast, Northern Ireland. The 50th Festival will take place from 19 to 3 November 2012. The 50th edition promises to be an explosion of music, drama, theatre, talks, film, dance and comedy. One of the Festival's enduring key roles is as an advocate of local work, giving Belfast's arts practitioners a unique opportunity to present their work on an international platform. Eminent figures Seamus Heaney, Paul Muldoon, James Galway, Van Morrison, Stewart Parker and Marie Jones were welcomed early in their careers and recent productions by local theatre companies such as Tinderbox, Ransom, Prime Cut and Kabosh have thrived during the Festival. More recently, the Festival has welcomed Robert Wilson, Alfred Brendel, Merce Cunningham, Philip Glass, Nick Cave, Ennio Morricone and Yoko Ono as its guests. The festival is held at several venues across the city, including the Mandela Hall, the Naughton Gallery, the Queen's Film Theatre, the Brian Friel Theatre and the Whitla Hall at Queen's, as well as the Grand Opera House, the Waterfront Hall and the Cultúrlann centre.

Postal address: Ulster Bank Belfast Festival at Queen's, 8 Fitzwilliam Street, Belfast, BT9 6AW
Regarding Tickets : festivalservice@qub.ac.uk
Main Box Office: +44 (0)28 9097 1197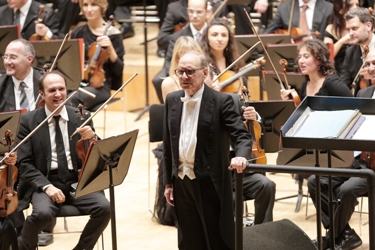 Ennio Morricone performing at the Belfast Festival at Queen's
Maiden City Festival
August
The Maiden City Festivaltakes place in Derry, Northern Ireland in the second week in August each year. The festival has a diverse and varied program with a desire to provide something for everyone. Events in the past have included children's visual art workshops, music of all kinds at the Verbal Arts Centre, firwework displays, dance competitions and historical walks and talks. The Festival commemorates the actions of Protestant Apprentice Boys who shut the city gates against the forces of the Catholic King James in December 1688. Festival co-ordinator Billy Moore described the Festival (in 2008) as "the way in which the Protestant community of Derry, a minority community, is able to make a contribution to the life of the city and to the diversity of expression of culture. From the outset we have themed the Maiden City Festival as a showcase for the Protestant culture of tolerance and openness, and a means of showcasing the heritage that is entrusted to the Apprentice Boys of Derry".

Booking Office: The Maiden City Festival, 13 Society Street, Londonderry, BT48 6PJ, Northern Ireland
For tickets and information contact: 077 8607 2511
E-mail: info@maidencityfestival.com
Belfast Film Festival
March-April
The Belfast Film Festival's activities are entertaining and provocative, and in many instances provide an important platform for debate across the religious, social and cultural divides in Northern Ireland. The presentation of innovative ways to screen film is one of the festival's specialities; films can be viewed on a boat in the River Lagan, with live piano accompaniment in St Anne's Cathedral, collaborating with local talent such as Duke Special and David Holmes on audio visual performances and profiling unique architectural sites such as a screening of an episode of the TV series The Prisoner in Church of Christ Scientist, Church in Belfast. The Festival promotes film education and practical filmmaking skills and has attracted film industry guests such as Martin Sheen, Tom Berenger, Peter Mullan, Ciaran Hinds, Albert Maysles, Brid Brennan, Jimmy McGovern, Jim Sheridan, Crispin Glover, Aidan Gillen, Jamie Thraves, Bernard Hill, Kim Longinotto, John Lynch, Margo Harkin, Desmond Bell, Seamus Mc Garvey, Patricia Quinn, Brendan Gunn, Julie Christie and many others.

Address: 3rd Floor, 23 Donegall Street, Belfast, BT1 2FF
Tel: +44 (0) 28 9032 5913
E-mail: info@belfastfilmfestival.org
Orangefest
July
Orangefest is a yearly Protestant celebration held on 12 July. It originated in Ireland during the 18th century. Members of the Orange Order and Protestant marching bands hold large parades throughout Northern Ireland. Streets are also decorated with British flags and bunting. The Twelfth is a public holiday in Northern Ireland. While it is a Protestant celebration, not all Northern Irish Protestants celebrate it, whether due to political or cultural reasons or indifference. Attempts have recently been made to downplay the political aspects of the marches and present the Twelfth as a cultural, family-friendly event at which tourists are welcome. The main way in which the Twelfth is celebrated is through large parades involving Orangemen and supporting bands. The parade usually begins at an Orange Hall, proceeds through the town and out to a large field where the marchers, their friends and family, and the general public gather to eat, drink and listen to speeches by clergymen, politicians and senior members.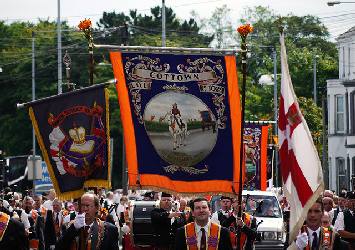 Orangemen and supporting bands parading in Bangor
Photograph by Ross
PlanetLove
September
PlanetLove is an annual Northern Irish electronic music festival which has been held since 1998. Currently it is held at Shane's Castle near Randalstown in County Antrim. PlanetLove has been famed for its great line up every year. Notably, the festival has been headlined or co-headlined by Paul van Dyk, Tiesto, Ferry Corsten, Rank 1, Pendulum and many more with nine stages. Planetlove also has a chill out area, a traders village, bungee amusements, funfair, licensed bars and more. It tends to sell its tickets very fast so we urge you to buy them as fast as you can to make sure you have a place at this brilliant festival.
Tennent's Vital
August
Tennent's Vital is an annual music festival in Northern Ireland. It has been confirmed that the festival is set to return in 2012 and 2013. Notable headliners throughout the years have included Kasabian, The Killers, Snow Patrol, Kaiser Chiefs, Kings of Leon, Franz Ferdinand, The White Stripes, Ash, The Streets, Primal Scream and Eminem. In 2012 Over 60,000 people attended the two day music festival in Belfast which was headlined by The Foo Fighters, The Stone Roses and Florence and the Machine. Tennent's Vital is an over 16's event. However, a parent aged 25 and over can take up to two under 16's to the show.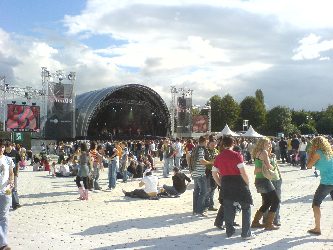 Tennent's Vital
City of Derry Jazz and Big Band Festival
May
The City Of Derry Jazz And Big Band Festival is a jazz festival held annually in Derry, Northern Ireland. The organisers of the City of Derry Jazz and Big Band Festival are proud of the fact that it attracts regular performers and artists to the event each year but a vital part of the festival's success is its ability to attract new acts and attract new audiences. The festival started in 2002 and is funded by Derry City Council, Guinness and the Department for Culture, Arts and Leisure and is supported by BBC Radio Foyle and BBC Radio Ulster. The Festival is one of leading annual music events in Ireland. In 2012 over 300 musicians performed over the weekend. Visitors and locals thronged Derry's restaurants pubs, clubs and open spaces to enjoy some of the best live music around with talent from the East Coast of America to Eastern Europe taking part in one of Ireland's biggest celebrations of jazz music!

Event Line: (028) 7137 6545
E-mail: jazz@derrycity.gov.uk