FESTIVALS AND EVENTS IN MEXICO
---
Feria Nacional de San Marcos
April
The Feria Nacional de San Marcos is a national fair held in the Mexican state of Aguascalientes every year for threeweeks. The fair was celebrated for the first time in 1828. Nowadays, it is an important tourist attraction that is heavily associated with bullfighting and cock fighting. It is estimated that seven million people visit the fair every year and as a consequence hotels are usually filled to capacity, however some locals rent out their houses to visitors and go on vacation during this time. Usually a concert is given by a prominent Mexican singer after a series of cockfights; this event tends to draw more attention than the fights themselves. Located in the main fair venue are an assortment of sponsored stands and mechanical games, as well as stages where various concerts and theater plays are performed. Parties where traditional Mexican muare also celebrated on the streets of Aguascalientes. Concerts, art exhibits and other cultural events complement the fair in many locations around the state.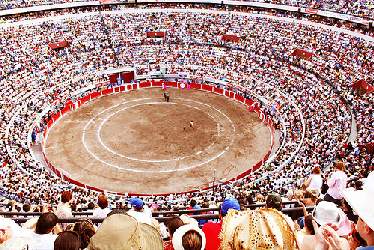 Bull Fighting at the Feria Nacional de San Marcos 2007
Photograph by Odin Fotografía
Vive Latino
April-May
Vive Latino - Festival Iberoamericano de Cultura Musical is an annual rock music festival held in Mexico City. It is one of the most important rock en español music festivals in the world, featuring a great variety of Latin and Spanish groups of many genres. In 1998, OCESA the most important Latinamerican company in entertainment and concert promotion, had the idea and the vision to produce a festival that hold rock bands which only played Rock en Español. That was how the first Latinamerican Rock Festival born and the promotors named it Vive Latino. In november of that year 27 bands played divided in two days (Saturday and Sunday) bands such as Café Tacvba, Julieta Venegas, Ozomatli, Los Tres and bands from Argentina and Spain. The event bécame a hugh success among the audience, bands and media. Vive Latino takes place at Foro Sol (venue where Rolling Stones, U2, Depeche Mode, David Bowie, Muse, among others have performed) with three stages. The festival it is not only about music, there are artistic activities where fans can interact, watch, learn and participate while bands are playing. For this year edition ViveLatino will take a step forward and will be a three day festival. This idea will be a milestone in the history not only of the festival itself it will make history in Latinamerica.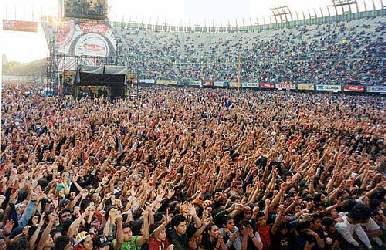 Vive Latino main stage
Guadalajara International Film Festival
March
The Guadalajara International Film Festival is a week-long film festival held each March in the Mexican city of Guadalajara since 1986. The Guadalajara International Film Festival (FICG) is the most important cinematographic event in Latin America and is the premier showcase for new work from Mexican and international independent filmmakers.. The quality and relevance of the film program; the celebrities and renowned filmmakers that stop-by; the professionals that pin-down projects; along with the public enjoying a myriad of cultural, educational and entertainment activities; have positioned the Festival as the a premier event for Ibero-american cinema. The Festival has also helped to revitalize the careers of some older more established Mexican and English speaking artists like Arturo Ripstein, Gabriel Figueroa, María Félix, Jaime Humberto Hermosillo, Silvia Pinal, Ignacio López Tarso, Ana Ofelia Murguía, Felipe Cazals, Jorge Fons, Katy Jurado, and Ismael Rodríguez as well as many others.

Mail / Postal address: Nebulosa 2916, Jardines del Bosque C.P. 44520, Guadalajara, Jal., México
E-mail: info@ficg.mx
Festival Internacional Cervantino
January-February
The Festival Internacional Cervantino (popularly known as El Cervantino) takes place each fall in the city of Guanajuato, located in central Mexico. This is a small colonial-era city with history of having a large cultural scene. The festival has grown to become the most important international artistic and cultural event in Mexico and Latin America, and one of four major events of its type in the world. The 2010 version had 3,161 artists from 31 countries, with special emphasis on traditional Mexican music and dance. The 2010 version had 3,161 artists from 31 countries, with special emphasis on traditional Mexican music and dance.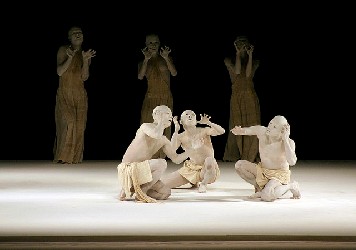 Sankai Juku performing at the 2006 Festival
Photograph by Carlos de las Piedras
Oaxaca FilmFest
November
The Oaxaca FilmFest is an international film festival held every November in the Mexican city of Oaxaca during ten days in the second week of November. In 2012, the festival will be held from the 8th to the 17th of November. The Oaxaca Filmfest holds the best film material on an international level and it counts with the presence of world-renowned directors, actors, screenwriters and filmmakers. Designed to be a competitive event, the ten days provide a platform for both the talents of seasoned filmmakers as well as emerging artists to showcase their work. In just two seasons the festival received nearly 2000 submissions from 77 different countries. With an extremely high standard for surviving the selection process, Oaxaca FilmFest has discovered some of the most brilliant filmmakers and screenwriters emerging on the international cinema scene today!

Mail / Postal address: Mártires de Chicago #205, Col. Reforma, Oaxaca, Oax., C.P 68025
E-mail: contact@oaxacafilmfest.com
Day of the Dead
November
Day of the Dead is a Mexican holiday celebrated throughout Mexico and around the world in other cultures. The holiday focuses on gatherings of family and friends to pray for and remember friends and family members who have died. Like many indigenous traditions in Mexico, this festival was adapted to and mixed with Christian traditions after the Spanish conquest of the area. It is particularly celebrated in Mexico, where it is a national holiday, and all banks are closed. Traditions connected with the holiday include building private altars honoring the deceased using sugar skulls, marigolds, and the favorite foods and beverages of the departed and visiting graves with these as gifts. They also leave possessions of the deceased. Scholars trace the origins of the modern Mexican holiday to indigenous observances dating back hundreds of years and to an Aztec festival dedicated to the goddess Mictecacihuatl.
Guelaguetza
July-August
The Guelaguetza is an annual indigenous cultural event in Mexico that takes place in the city of Oaxaca. The celebration centers on traditional dancing in costume in groups, often gender-separated groups, as is traditional, and includes parades complete with indigenous walking bands and native food. Although the celebration is now an important tourist attraction, it also retains deep cultural importance for the peoples of the state. The celebration takes place on consecutive Mondays at the end of July in towns around the state and in the capital city's open-air amphitheater built into the "Cerro del Fortín", a hill that overlooks central Oaxaca City. The Guelaguetza celebration also includes many other side events, including a performance of "Princess Donaji", an epic prehispanic theatrical presentation performed the day before the Guelaguetza itself begins.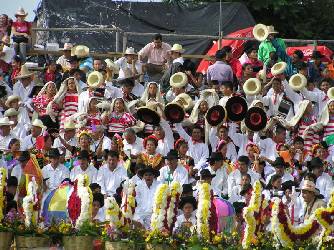 Photograghy from the 2005 Guelaguetza
Puerto Vallarta International Gourmet Festival
November
Puerto Vallarta International Gourmet Festival is an annual culinary festival held in Puerto Vallarta, Mexico, every November since 1995. Every year the Festival invites culinary professionals from all over the world to cook and to demonstrate their cuisines. The Festival is supported by local restaurants. During the Festival, international and local food and beverage professionals run events around town, with each of the participating restaurants hosting a guest master chief and creating its own events to complement its food offerings. Events during the festival include the Sunday Festival Gourmet Brunch, Wine Tasting, and Cheeses of the World. There are also Chef's Table and Winemakers' dinners hosted by restaurants. The traditional Gala Dinner, called The Spirit of Mexico, concludes the Festival.
Sombrero Festival
February
Sombrero Festival is a two-nation fiesta and an annual four-day pre-Lenten celebration held in Matamoros, Tamaulipas, Mexico, in cooperation with Brownsville, Texas, United States. This festival is a shared heritage celebration between the two border cities of Matamoros, Tamaulipas and Brownsville, Texas. The Sombrero Festival includes a jalapeño-eating contest, 1-mile and 3-mile running competitions, music and dancers, arts and crafts selling and activities, numerous food stands and cooking contests. Several rock stars, corrido singers, and Tejano music entertainers perform in this annual event.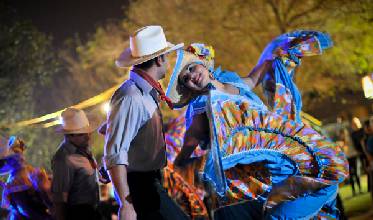 Sombrero Festival 2011
Photograph by Gabriel Elizondo