FESTIVALS AND EVENTS IN MALAYSIA
---
Rainforest World Music Festival
July
The Rainforest World Music Festival is an annual three-day music festival celebrating the diversity of world music. The festival is held in the grounds of the Sarawak Cultural Village nestled against the base of Mount Santubong, about 35 km. north of Kuching. The festival runs daytime music workshops, cultural displays, craft displays, food stalls, and main-stage evening concerts. It is now one of the largest musical events in Malaysia with a total weekend audience approaching 30,000. It brings dazzling performances from across the globe. For 15 years the festival has mesmerised audiences from around the world. The festival features a wide range of performances from traditional music, to world fusion and contemporary world music. The festival emphasizes the use of traditional acoustic world instruments, although electric accompaniment instruments are common.

Postal address: Sarawak Tourism Board, 5th – 7th Floor, Yayasan Sarawak Building,
Jalan Masjid, 93400 Kuching, Sarawak, Malaysia
Phone: +6082-423600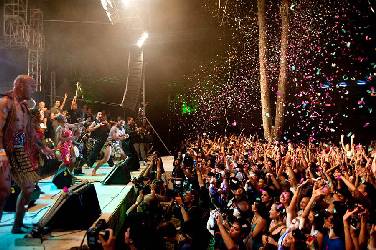 Rainforest World Music Festival
Merdeka Parade
August
Merdeka Parade is an annual parade held every August 31 in commemoration of Malaysia's independence. the event has been usually held at Merdeka Square, Kuala Lumpur in commemoration of it being the original site of the first independence parade, which was held on September 1, 1957. The national parade has also been held in Malacca Town, Johor Bahru, Kuching, Kota Kinabalu, George Town, Shah Alam, Putrajaya and Kuantan. The human graphic display is one of the many regular features of the parade, together with the mass presentation by members of Soka Gakkai Malaysia, dressed in the colours of the national flag, forming different displays in the ground. The chief guest of honour is the Yang di-Pertuan Agong and the Raja Permaisuri Agong (King and Queen of Malaysia). It is also attended by the Prime Minister of Malaysia and other Cabinet members, plus government employees. In every parade, floats representing the various companies and corporations celebrating the occasion drive past the street to the amazement of everyone, due to their intricate designs and various features, as well as the people which are on the floats themselves.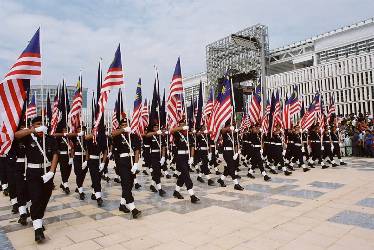 Merdeka Parade
Borneo International Jazz Festival
May
This annual event sees jazz groups from around the world converging at the Miri Resort City. Around 7,000 spectators and participants, comprising of locals, expatriates and visitors, are expected at this exciting musical galore. Miri International Jazz Festival is now known as Borneo Jazz! This change is to reflect the growing stature of the festival among leading jazz festivals in the region. 'Borneo' gives a unique positioning of Sarawak among jazz music aficionados. With this, comes a reimaging to reflect the vibrancy of the festival and the destination. Be prepared for exciting things to come as we bring you a richer experience at the Borneo Jazz. Do not miss the magic of Borneo and what this exciting destination can offer as you groove to the music.

For more information contact: 5th-7th Floor, Bangunan Yayasan Sarawak, Jln Masjid, 93400 Kuching, Sarawak
E-mail: info@mirijazzfestival.com
Melaka River Fiesta
June
Enjoy the excitement of fulfilled activities specially programmed along Melaka River. You will be fascinated by the various activities that had been arranged to make this festival as a memorable one. During this thrilling event, visitors will be able to enjoy an array of exciting activities such as pillow hitting, sling shot balloon tossing or catching the duck. Be sure to check out some of the paces of interest that are located around the event's venue such as Spice Garden (Taman Rempah), Melaka Fort, Admiral Cheng Ho Gallery and Dataran Sungai Melaka. At the Melaka River Fiesta you will have the opportunity to fulfil your gastronomic experience by tasting famous Melaka chicken or savour a plate of Pulet Basquaise.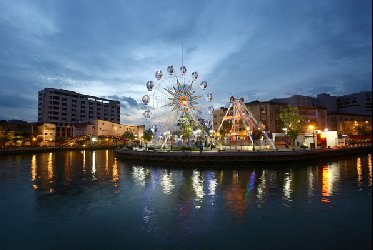 Melaka River Fiesta
Malaysia Film Festival
August
Since the first edition of the Malaysian Film Festival (FFM) organised by Entertainment Journalist Association (EJA) in 1980, MFF continues to be the arena for appreciation and honouring the products of film arts and film artistes. The event indirectly becomes the benchmark in evaluating and adjudicating the exceptional qualities in the film produced nationally either in their film genres, short documentaries, animations and advertisements. Malaysia Film Festival is an accolade bestowed by the Malaysian Entertainment Journalists Association of Malaysia (EJA) for the appreciation and honouring the products of film arts and artises. The formal ceremony at which the awards are presented is one of the most prominent award ceremonies and the highlights for the film industry in Malaysia. It is among one of the major annual awards presented in Malaysia, along with Anugerah Bintang Popular for the entire entertainment industry and Anugerah Industri Muzik for the music industry. There are 13 contested awards.

Mail / Postal address: Portal Development Unit, National Film Development Corporation Malaysia (FINAS), Kompleks Studio Merdeka, Jalan Hulu Kelang, 68000 Ampang, Selangor

MTV World Stage Live in Malaysia
July
MTV World Stage is a global series that brings multi-genre talents with global relevance to an audience in over 550 million households. Recorded "live" at the most exclusive gigs, world renowned music festivals and unique concert locations from around the world, MTV World Stage is the "front row seat" for music lovers to experience the biggest artists on the globe without leaving the comfort of their sofas. On August 15, 2009, MTV Asia staged the first ever outdoor MTV World Stage Live In Malaysia at Sunway Lagoon Resort in Kuala Lumpur. The event was attended by over 15, 000 fans.The 2011 event took place in I-City. The event also featured a live, real-time microblogging application where comments and 'tweets' via SMS were displayed on giant screens at the concert venue. World Stage Live in Malaysia 2012 is set to make a big return to the Surf Beach @ Sunway Lagoon on 14 July with a spectacular line-up featuring global superstar Justin Bieber, multi-award winning Korean pop sensations Jay Park and Kara, and the nation's very own singer-songwriter Mizz Nina.

Address: Sunway Lagoon SDN. BHD, 3, Jalan PJS 11/11, Bandar Sunway, 46150 Petaling Jaya, Selangor, Malaysia
E-mail: worldstage@mtvasia.com