FESTIVALS AND EVENTS IN LATVIA
---
Positivus Music Festival
July
Positivus Festival is an annual, two day summer music and culture festival held in Salacgrīva, Latvia. The idyllic location is praised both by the festival visitors as well as the performing artists. Each year, the festival offers its visitors not only a variety of amazing performers, but also plentiful entertainment options and a lively atmosphere, which together create an unforgettable experience. First held in 2007, Positivus combines a variety of genres, including indie, pop, folk, electronic and many more styles. Positivus festival has 3 main stages – Tele 2 stage, Nordea stage and the red Bull Music Academy stage. In addition, there also are several smaller stages, including the I Love You and Palladium stages that offer various world famous musicians alongside local and fresh acts. The festival is known for combining various music genres with exciting recreational activities, from sports to vintage, arts and crafts shopping, yoga, theatre, film etc. The Arts and Music stage offers modern dancing, theatrical and improvisation shows, graffiti performance, circus and many more. The Nokia Cinema tent offers the relaxing opportunity to watch a variety of movies. The festival camping grounds are located in close proximity to the venue, allowing the visitors easy access to their belongings at any time.

Mail / Postal address: Positivus Music Ūdens iela 12 - 106 Rīga, LV-1007
E-mail: info@positivusfestival.com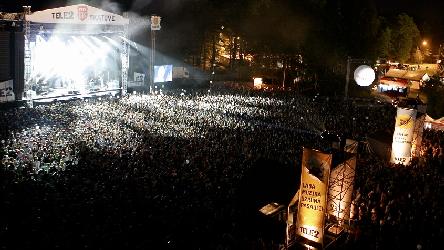 Positivus Music Festival
Studentu Paradīze
September
Studentu Paradīze is the most spectacular celebration of opening academic year in Baltics that will gather together thousands of students in Arena Riga. It is held at Arena Riga in Riga, Latvia and usually attracts a crowd of more than 10,000 current and prospective students. At this event students are able to attend several stages, where many different artists from Latvia and other countries perform. Studentu Paradīze is organized to create feeling of unity amongst students as well as organize one celebration of opening academic year for all Latvian students. It is organized by students from 25 Latvian universities. In 2011 40 Latvian and foreign artists performed on 6 stages. The line-up included such artists as Supafly from UK, Dzelzs Vilks, Musiqq, Dvīnes, Ivo Fomins, Double Faced Eels, into one, Tumsa un Kaža, The Crystal Apes from Germany, Vic Anselmo, Thursday 12th, Dziļā Nemaņā, Ratz Lukas, Andre Crash un Catherine, Droydi from Brasil, Mats Gulbrandsen from Norway, Roberts Lejasmeijers, [Ex] da Bass, Kristella, Da White, Chris Cherry, Anastacia, Paul Birman, DJ Reverss, DJ Mareks Lācis, DJ Vento, DJ Kress, DJ Gustavito, DJ AI-VA, DJ Rise, DJ SHADOWS, DJ Wyesis, DJ Ikazz, DJ NS, DJ T and others.

E-mail: info@studentuparadize.lv
International Sacred Music Festival
August-September
The International Sacred Music Festival traditionally takes place at a time when Riga's concert life is scarce but the tourism season is in full swing. The Sacred Music Festival brought a diversity of genre into the festival movement in Latvia with its foremost emphasis on the performance of large-scale vocal, instrumental and acapella pieces. This year it will be the 15th summer when the State Choir Latvija and its artistic director Māris Sirmais invites everyone to the International Sacred Music Festival. Concerts will be held between 28th of August till 8th of September. Also in this year the organizers of festival will continue one of most important traditions in International Sacred Music Festival – commission new pieces by Latvian composers. Tickets for all of the concerts are available at "Biļešu paradīze" box offices.

Mail / Postal address: Kalku street 11a, LV-1050, Riga, Latvia
E-mail: info@koris.lv
Gastronomy Festival
September
From 1-9 September, "Riga Food 2012" presents the Gastronomy Festival, an event aimed to all those who love cooking and those who enjoy good meal. The most outstanding Riga's restaurants, cafes, pizzerias and bars will offer visitors special prices, new menus, outstanding discounts and a high-class professional service. Visitors will be given an opportunity not only to enjoy delicious food and drinks, but also to enjoy the hospitality and eating-out culture at these establishments.
Latvian Song and Dance Festival
July
The Latvian Song and Dance Festival is an important event in Latvian culture and social life. The All-Latvian Song and Dance Festival has been held since 1873, normally every five years. During the festivals exhibitions of photography, art and folk craft, orchestra concerts, and a festive parade also take place. Events and competitions leading up to the event occur throughout the period between festivals. Approximately 30,000 performers altogether participate in the event. Although usually folksongs and classical choir songs are sung, with emphasis on a cappella singing, recently modern popular songs have been incorporated into the repertoire.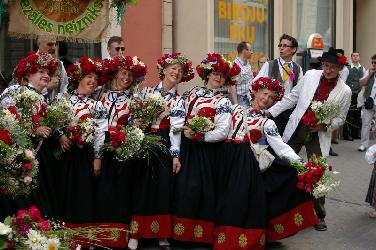 Latvian Song and Dance Festival
Photograph by Graham Tomlin
Baltic Pearl Film Festival
September
Baltic Pearl is one of the oldest film festivals in the Baltic States introducing cinema professionals and enthusiasts to the films that have won awards in the most significant international film festivals, revealing names of young talents and demonstrating masterpieces of classical films in a special programme. The festival will take place in Riga from 14th to 24th of September. Traditionally the film programme consists of two parts. The most topical and significant film premieres of the season 2011-2012, that astonished the audiences of Cannes, Venice and Berlin film festivals, and retrospective shows, revived masterpieces, world cinema classics. This year one of the retrospective shows will be devoted to the jubilee of the outstanding Russian film director Andrei Konchalovsky.

E-mail: info@balticpearl.lv / festival.balticpearl@gmail.com
Sound Forest
September-October
Sound Forest is organised both to give an overview of the latest developments within the music world as well as to create interesting musical events in Riga, Latvia. The festival has a goal to widen the audience's horizons, and to offer alternatives to dominant views on culture by introducing them to music, cinema and art. This year it will take place on 6, 11, 12 and 13 October. Setting the tone for this year's festival is the appearance of abstract electronic sound artist Machinefabriek whose pieces have been inspired by Latvian author Imants Ziedonis' work "Krāsainās pasakas" (Multicoloured Tales). This performance will be accompanied by visuals created specifically for Sound Forest by the Lesley Moore studio from the Netherlands together with the Latvian designer Zigmunds Lapsa. In keeping with Skaņu Mežs' traditions an evening of dance music will take place on 12 October in the Palladium concert hall as well as an evening of acoustic and electronic performances in the Anglican Church on 13 October.

Mail / Postal address: Viestarts Gailītis, Saules aleja 1-2, LV-1002, Rīga, Latvia