FESTIVALS AND EVENTS IN JAPAN
---
Japanese New Year
December-January
New Year observances are the most elaborate of Japan's annual events. At midnight on December 31, Buddhist temples all over Japan ring their bells a total of 108 times to symbolize the 108 human sins in Buddhist belief, and to get rid of the 108 worldly desires regarding sense and feeling in every Japanese citizen. Osechi foods are traditional foods which are chosen for their lucky colors, shapes, or lucky-sounding names in hopes of obtaining good luck in various areas of life during the new year. Homes are decorated and the holidays are celebrated by family gatherings, visits to temples or shrines, and formal calls on relatives and friends. The first day of the year (ganjitsu) is usually spent with members of the family. In the Imperial Palace at dawn on the 1st, the Emperor performs the rite of shihōhai (worship of the four quarters), in which he offers prayers for the well-being of the nation. On January 2 the public is allowed to enter the inner palace grounds; the only other day this is possible is the Emperor's birthday (December 23). On the 2nd and 3rd days acquaintances visit one another to extend greetings (nenshi) and sip otoso (a spiced rice wine). Some games played at New Year's are karuta (a card game), hanetsuki (similar to badminton), tako age (kiteflying), and komamawashi (spinning tops).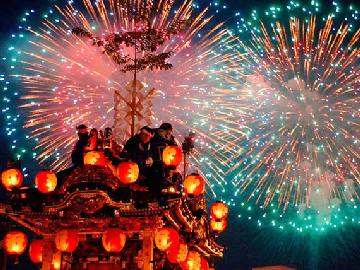 Japanese New Year
Hanami
April
Various flower festivals are held at Shinto shrines during the month of April. Excursions and picnics for enjoying flowers, particularly cherry blossoms are also common, as well as many drinking parties often to be seen in and around auspicious parks and buildings. This is one of the most popular events during spring. The subject of flower viewing has long held an important place in literature, dance and the fine arts. Ikebana (flower arrangement) is also a popular part of Japanese culture and is still practiced by many people today. Some main things people do during this event are: games, folk songs, folk dance, flower displays, rides, parades, concerts, kimono shows, booths with food and other things, beauty pageant, and religious ceremonies.
Bon Festival & Japanese Lantern Floating Festival
July-August
Bon Festival is a Buddhist observance honoring the spirits of ancestors. Among the traditional preparations for the ancestors' return are the cleaning of grave sites and preparing a path from them to the house and the provision of straw horses or oxen for the ancestors' transportation. Small paper lanterns containing a burning flame are either set afloat to a river, lake or sea or they are let go and float away into the night. This marks the end of of the Bon Festival. Their light is intended to guide the way for deceased family members' spirits. Usually the person who lets the lantern go will write a message on the side. The white lanterns are for those who have died in the past year. Traditional Japanese beliefs state that humans come from water, so the lanterns represent their bodies returning to water.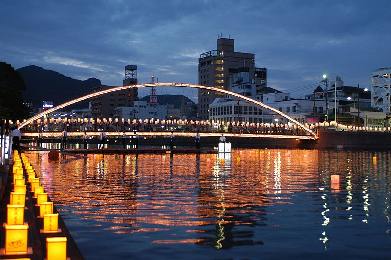 Japanese volunteers place candle-lit lanterns into the Sasebo River
during Japan's annual summer Bon Festival
Photograph: Ian W. Anderson
Fuji Rock Festival
July
Fuji Rock Festival is an annual rock festival held in Naeba Ski Resort, in Niigata Prefecture, Japan. The 3 day event, organized by Smash Japan, features more than 200 Japanese and international musicians, making it the largest outdoor music event in Japan. There are seven main stages and other minor stages scattered throughout the site. The Green stage is the main stage and it has a capacity for almost 50,000 spectators. Other stages include the White Stage, the Red Marquee, Orange Court, and Field of Heaven. The hub of the site is called Oasis where more than 30 food stalls from around the world gather. The night before the festival features an opening party which is free entry, featuring bon-odori (traditional Japanese folk dance), prize draws, food stalls and a fireworks display. The 2012 edition ran from Friday Friday 27 July until Sunday 29 July and headline acts included The Stone Roses, Noel Gallagher's High Flying Birds and Radiohead.

If you don't live in Japan, you can purchase tickets from GANBAN
E-mail: english@ganban.net
Summer Sonic Festival
August
The Summer Sonic Festival is an annual two or three-days rock festival held at the same time in Osaka and Chiba. The majority of the bands playing in Osaka the first day go to Chiba the following day and vice versa. The Summer Sonic Festival is an annual two or three-days rock festival held at the same time in Osaka and Chiba. The majority of the bands playing in Osaka the first day go to Chiba the following day and vice versa. The 2012 eidition featured Green Day, Franz Ferdinand, Lostprophets, Sigur Rós, Nelly Furtado, Jamiroquai, Rihanna, New Order, The Cardigans, Calvin Harris and many more.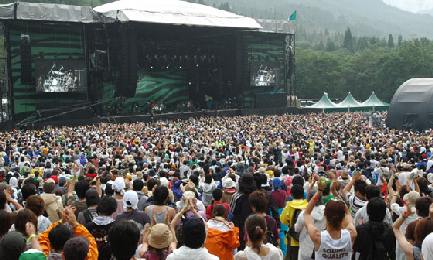 Fuji Rock Festival, 2011
Culture Day
November
Culture Day is a national holiday held annually in Japan on November 3 for the purpose of promoting culture, the arts, and academic endeavour. Festivities typically include art exhibitions, parades, and award ceremonies for distinguished artists and scholars. As Culture Day exists to promote the arts and various fields of academic endeavor, local and prefectural governments typically choose this day to hold art exhibits, culture festivals, and parades. For example, Hakone in Kanagawa Prefecture holds the annual Feudal Lord's Parade to exhibit Edo Period clothing and costumes.
Newport Jazz Festival in Madarao
July-August
Newport Jazz Festival in Madarao was an annual jazz festival held in summer, July and August at Madarao, Nagano Prefecture, Japan. The several-day festival featured musicians from Japan and overseas performing on different stages. Notable artists appearing at the Newport Jazz Festival in Madarao included the Dizzy Gillespie quartet, Spyro Gyra, Masahiko Sato, Stuff, Tania Maria, Toshiyuki Honda, Terumasa Hino, B. B. King, Gary Burton, Dave Brubeck, Woody Herman, Freddie Hubbard, Lee Ritenour, Wayne Shorter, Jackie McLean, Celia Cruz, Sérgio Mendes, Jonathan Butler, Gil Evans, Charmaine Neville, Larry Goldings, Regina Carter, Monday Michiru, Michael Brecker, Dianne Reeves, Ray Barretto, Angélique Kidjo, PE'Z, Kurt Elling and many more. Live under the sky (established in 1977), Newport Jazz Festival in Madarao (established in 1982) and Mount Fuji Jazz Festival (established in 1986) are the big 3 jazz festival in the history of jazz in Japan.