FESTIVALS AND EVENTS IN IRELAND
---
Saint Patrick's Day
March
Saint Patrick's Day is a cultural and religious holiday celebrated on 17 March. It is a public holiday in Ireland. It commemorates Saint Patrick the most commonly recognised of the patron saints of Ireland, and the arrival of Christianity in Ireland. Saint Patrick's Day was made an official feast day in the early seventeenth century, and has gradually become a celebration of Irish culture in general. The day is generally characterised by the attendance of church services, wearing of green attire, public parades and processions, and the lifting of Lenten restrictions on eating, and drinking alcohol, which is often proscribed during the rest of the season. As well as Dublin, many other cities, towns, and villages in Ireland hold their own parades and festivals, including Cork, Belfast, Derry, Galway, Kilkenny, Limerick, and Waterford. The biggest celebrations outside Dublin are in Downpatrick, County Down, where Saint Patrick is rumoured to be buried.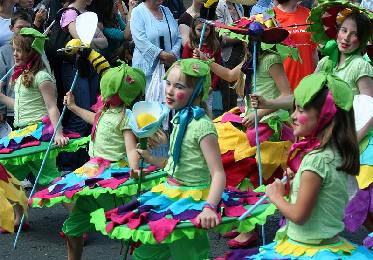 A scene from the Galway Arts Festival Parade
Photograph: Peter Clarke
Galway Arts Festival
July
Galway Arts Festival is an annual arts festival that takes place each July in Galway, Ireland. It is Ireland's leading arts festivaland one of the most successful and influential arts enterprises in the country. It enjoys an international reputation for innovation and excellence. Galway Arts Festival is an international celebration of the performing and visual arts and an important showcase for Irish arts and international arts. Over 150,000 people attend Festival annually with hundreds of writers, artists, performers and musicians creating theatre, spectacle, street art, music, comedy, literature and music. The cultural activity and celebration lasts for a fortnight. The Festival creates a huge impact on Galwayand remains at the heart of many aspects of life in the city, steering it to its current standing as one of the leading centres for the arts in Ireland. Theatre and dance companies including Chicago's Steppenwolf Theatre Chicago, the Royal National Theatre, London, The Royal Court, James Thierree, Stephen Petronio Dance Company, Hubbard Street Dance, The Abbey Theatre and Galway's world famous Druid Theatre have all performed at the Festival. Artists and musicians including Bill Viola, Joni Mitchell, Hughie O'Donoghue, Walker Evans, David Byrne, Blondie, David Gray, Brodsky String Quartet, Stephen Isserlis and Philip Glass have all recently participated at the Festival.

Address: Galway Arts Festival, Black Box Theatre, Dyke Road, Galway, Ireland
E-mail: info@galwayartsfestival.com / boxoffice@galwayartsfestival.com
Electric Picnic
August-September
Electric Picnic is an annual arts-and-music festival which has been staged since 2004 at Stradbally Hall in Stradbally, County Laois, Ireland. It was voted Best Medium-Sized European Festival at the 2010 European Festival Awards, and has been voted Best Big Festival at each of the last four Irish Festival Awards since they began in 2007. Electric Picnic differs from other festivals in Ireland in that the music choice is more eclectic than the other mainstream events (its history includes international acts such as Kraftwerk, Röyksopp, Nick Cave, Sonic Youth, New Order, Björk, Arcade Fire, Beastie Boys, The Stooges, The Chemical Brothers, The Flaming Lips, Sigur Rós and Sex Pistols), and there is more emphasis on quality festival services (such as food and sleeping arrangements) and a generally more positive and relaxed atmosphere. There is also an emphasis on eco-friendly initiatives. The festival also incorporates other attractions such as the 24-hour cinema tent, the Body and Soul arena (offering an ambient lounge with beanbags, massages and tarot card readings) and the International Comedy Tent.

General Enquiries: +353 1 4735576 / info@electricpicnic.ie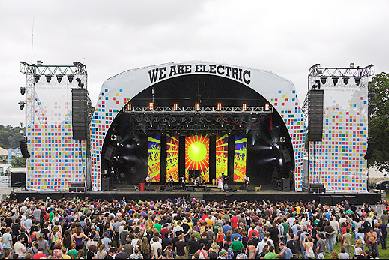 Main stage at Electric Picnic
Live at the Marquee
June-July
Live at the Marquee is an annual music festival which takes place in Cork, Ireland during the summer, usually over multiple days in June and July. The first event occurred in 2005 when Cork was the official European Capital of Culture. The festival consists of a number of separate events each headlined by a different artist and each with their own ticket prices. It has attracted many well-known names in the music industry to perform including Kanye West, Elton John, Anastacia, 50 Cent, Diana Ross, Bob Dylan, Faithless, Roger Waters, Christy Moore, Al Green, Eric Clapton, Lou Reed, Jay-Z, Morrissey, Neil Young, Paul Simon, Brian Wilson Lady Gaga, Jessie J, Olly Murs, Steps and Meat Loaf.

Address: 24 Holles Street, Dublin 2, Republic of Ireland
Telephone: 00353 (0)1 77 55 800
Oxegen
July
Oxegen is an annual rock music festival in Ireland, first held from 2004–2011 and again in 2013. The event is regularly cited as Ireland's biggest music festival. Oxegen was originally a three-day festival but, from 2008 onwards, was expanded to four days. It takes place at the Punchestown Racecourse in County Kildare, Ireland and has an average attendance of around 60,000 a day. Members of bands such as The Killers, Snow Patrol and R.E.M. have spoken positively of their experiences at the festival. Oxegen is scheduled to take place in July 2013, according to an official announcement by MCD in December 2011.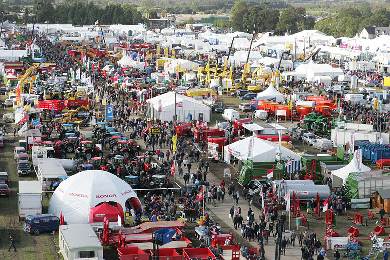 National Ploughing Championships
National Ploughing Championships
September
The National Ploughing Championships of Ireland take place each year in the month of September. The first inter-county Ploughing contest took place in 1931 as a result of an argument between two lifelong friends, Denis Allen of Gorey, County Wexford and JJ Bergin of Athy, County Kildare. Each argued that their respective counties had the best ploughmen. This resulted in a challenge being called for. Since then, the National Ploughing Championships has grown in size, year on year. It has expanded from requiring a small field of 26 acres to needing over 700 acres of land today. Within this, the site now requires 220 acres for ploughing, 80 acres for trade stands and exhibition space, 400 acres of car parking and a demonstration area of approximately 25 acres.

Since its inception, the National Ploughing Championships has become much more than just an annual inter-county competition; it has become an intrinsic part of Irish rural life. The National Championships is now no longer just for ploughing or machinery enthusiasts, the modern event now features something for just about every member of the community. These include a Tented Trade Village, a Food Fair, Craft Village, Livestock, Forestry, Education, Lifestyle, Financial Services, Bio Energy and Agri Service. Along with this, there are many entertainment and special events taking place. Some of these include: Fashion Shows, Celebrity Guests, Sheep Dog Trials, Loy Digging, All Ireland Lamb Shearing, Most Appropriately Dressed Lady & Gent Competitions, Craft Demonstrations, Meggers, Celebrity Cookery Demonstrations, Outdoor Radio Broadcasts and much more. With all this happening, the yearly championships usually attracts in excess of 1100 exhibitors and up to 190,000 visitors.

Address: National Ploughing Association, Fallaghmore, Athy, Co. Kildare, Ireland
E-mail: info@npa.ie