FESTIVALS AND EVENTS IN HONG KONG
---
Lunar New Year Fair
January-February
Lunar New Year Fair is a fair held annually a few days before Lunar New Year in markets. In Hong Kong, the fair is held in various location in Hong Kong, notably Victoria Park and Fa Hui Park. Fair is made up of hundreds of stalls for various goods. Half of the area is for selling auspicious flowering plants like narcissus, peony, chrysanthemum, peach and fruit plants like mandarin. The other half is for selling dry stuff for Chinese New Year. The crowd peaks at a few hours before and after midnight of the New Year's Day. The stall tenders would try to sell all their stocks in these few hours before the fair closes.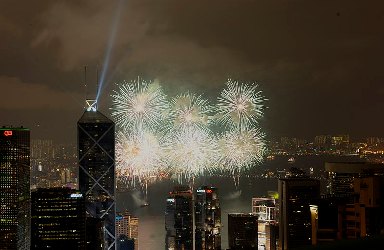 National Day of Greenland
Clockenflap
December
Clockenflap Multimedia Arts & Music Festival, commonly abbreviated to "Clockenflap", is a two-day (formerly a one-day) music and multimedia arts festival held at various locations in Hong Kong. It incorporates international and local live music, film, art installations, digital arts and animation. International acts have included Santigold, Bombay Bicycle Club, The Cribs, French Horn Rebellion, Chad Valley, The Pains of Being Pure at Heart, Luke Vibert as well as numerous others spread over five stages. Now in its fifth year, Clockenflap continues to grow from strength to strength. 18,000 festival goers enjoyed 2011's event, with an expected 25,000 people set to attend Clockenflap 2012. Clockenflap also has a strong multi-media arts presence from contemporary emerging artists from Hong Kong and beyond. Unique in the fact that Clockenflap is held outdoors at the West Kowloon Cultural District, art installations tend to be of large format and often interactive – providing an alternative to gallery presented art. The film tent showcases a mixed local and international programme featuring dozens of independently produced short films, animations and music videos.

E-mail: admin@clockenflap.com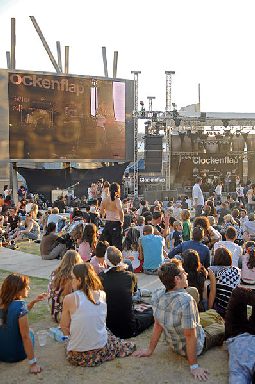 Clockenflap Multimedia Arts & Music Festival
Hong Kong International Film Festival
March-April
The Hong Kong International Film Festival is a platform for filmmakers, film professionals and filmgoers from all over the world to launch and experience new film work. There are seminars, conferences, exhibitions, and parties celebrating the festival community. The festival is committed to discovering talent, and it is also a major platform to launch films to the Greater China region and Asian market. Screening over 300 titles from 50 countries in 11 theatres across Hong Kong, the 33rd HKIFF reached an audience of 580,000 people. New films are featured as gala premieres, with the directors and cast presenting on the red carpet, and inside the cinema, to greet the audience. As for the awards, there are five categories, decided by juries consisting of film industry professionals such as film critics, directors and film festival delegates.

Office Address: 21/F, Millennium City 3, 370 Kwun Tong Road, Kowloon, Hong Kong
General Enquiry: info@hkiff.org.hk
Lantern Festival
February
The Lantern Festival is a festival celebrated on the fifteenth day of the first month in the lunisolar year in the lunar calendar, the last day of the lunisolar lunar New Year celebration. It is not to be confused with the Mid-Autumn Festival, which is sometimes also known as the "Lantern Festival" in locations such as Singapore and Malaysia. During the Lantern Festival, children go out at night to temples carrying paper lanterns and solve riddles on the lanterns. It officially ends the Chinese New Year celebrations. In ancient times, the lanterns were fairly simple, and only the emperor and noblemen had large ornate ones; in modern times, lanterns have been being embellished with many complex designs. For example, lanterns are now often made in shapes of animals. The lanterns can symbolize the people letting go of their past selves and getting a new one, which they will let go of the next year.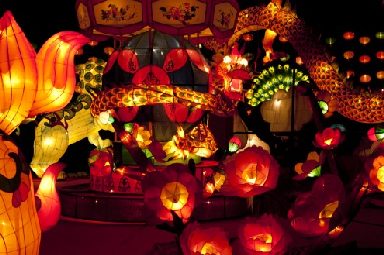 Lantern Festival in Hong Kong
Hong Kong Book Fair
July
The Hong Kong Book Fair is a book fair organised by the Hong Kong Trade Development Council, held annually (usually in the middle of July) at the Hong Kong Convention and Exhibition Centre, selling and exhibiting books, printed matter, stationery, compact discs and other multimedia publishing. The Fair has become an major annual event in Hong Kong with the number of visitors reaching a new high every year. The Fair has developed from a mere promotion platform for the industry to an annual territory-wide major reading and cultural event for the public of Hong Kong.

Venue: Hong Kong Convention and Exhibition Centre, 1 Expo Drive, Wan Chai, Hong Kong
Enquiries: exhibitions@hktdc.org
Hong Kong Arts Festival
February-March
Hong Kong Arts Festival, provides a wide range of art programmes from all over the world. The festival has introduced many exciting programmes - both internationally and locally produced - to the people of Hong Kong, stimulating their interest in the arts and raising their levels of appreciation. Every February and March, people flock to the Festival's programmes and exhibitions at venues that range from large performing halls to intimate theatre spaces. The Festival programme includes Classical Music/Chinese Music, World Music, Western Opera, Chinese Opera, Drama, Dance and Family Choice to the Art lovers. Many foreign performers and groups have featured previously, including Wiener Philharmoniker, St. Petersburg Philharmonic Orchestra, Paris Opera Ballet, Mark Chan, New Japan Philharmonic, San Francisco Symphony, Shanghai Kunqu Theatre, Yo-Yo Ma, Julian Lloyd Webber and Josť Carreras. In addition to the general performances, the festival also provides commissioned performances, which affiliates with both local and foreign groups in order to broaden the view of audiences.

Address: Hong Kong Arts Festival Society Ltd. Room 1205, 12/F, 2 Harbour Road, Wanchai, Hong Kong
E-mail: enquiry@hkaf.org