FESTIVALS AND EVENTS IN GREECE
---
Athens & Epidaurus Festival
May-October
Athens - Epidaurus Festival is an annual arts festival that takes place in Athens and Epidaurus, from May to October. It is one of the most famous festivals in Greece. The festival includes musical, theatrical and other cultural events. It is a great celebration that has lasted 56 summers, and that has hosted some of the leading lights of theatre, music and dance. From Mitropoulos and Callas to Rostropovich, Pavarotti, Leonidas Kavakos and Dimitris Sgouros. In addition to the creation of new venues for the staging of its performances, the festival aims to broaden the audiences that attend its events, to highlight and promote the work of young artists, and to present contemporary trends in dance, music and theatre through the invitation of, and collaboration with interesting artists and performance companies. Efforts are being made to fall in line with the major European festivals of this kind.

Mail / Postal address: Greek Festival 23 Hadjichristou & Makriyianni str. 117 42 Athens, Greece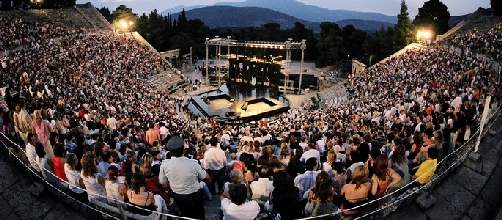 The Ancient Theatre of Epidaurus
Photograph by Evi Fylaktou
Rockwave Festival
June-July
Rockwave Festival is a rock festival held in Malakassa. It is one of the most famous music festivals in Greece. Rockwave's energetic presentation attracts masses of young Greeks and visitors who descend on the festival in search of a great time, and they succeed in finding it. The festival's location was constantly being changed until 2004, when event park TerraVibe Park, located in Attica, became the permanent host of the festival. Rockwave Festival annually attracts the biggest bands and most popular artists in the music industry. Over 160 international and local artists have attended Rockwave Festival in the past. General Admission tickets for Rockwave in 2011 start around 49.50 Euro per day. Vistors to the Rockwave Festival can reach the site by train from Athens and they also schedule special buses during major events.

Mail / Postal address: Didi Music SA - Big Star Promotions LTD, Eptanisou Pipinou 3 & 2, 11257 - Blister - Athens
E-mail: info@didimusic.gr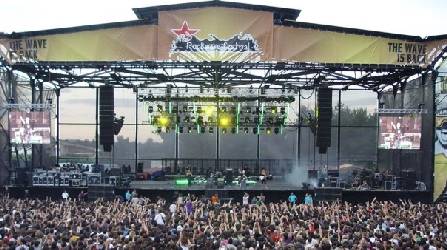 Terra Stage, Rockwave Festival 2009
Thessaloniki International Film Festival
Novemeber
The Thessaloniki International Film Festival is the top film festival of South Eastern Europe, the presentation platform for the year's Greek productions, and the primary and oldest festival in the Balkans for the creations of emerging film makers from all over the world. Founded in 1960 as the Week of Greek Cinema, it became international in 1992, including a Competition Section for feature length films by emerging directors presenting their first or second film. Since 1992, the International Thessaloniki Film Festival has striven to present the most innovative independent films from around the world. Retrospectives and tributes programme look at both historic masters, and emerging artists. All films are screened before the young, vital, cinema-loving Thessaloniki audience, while in the Festival's parallel events, such as concerts and art exhibitions, cinema is brought together with the other arts. Through its new form and activities, the Thessaloniki International Film Festival has established close collaborations with various local, national, regional and international film institutions, cultural, educational and social organizations, as well as embassies and cultural agencies from other countries.

Mail / Postal address: Thessaloniki, 10, Aristotelous Square, 546 23 Thessaloniki
E-mail: secretariat@filmfestival.gr
Patras Carnival
January
The Patras Carnival, Patrino karnavali is the largest event of its kind in Greece and one of the biggest in Europe. It has more than 160 years of history. The events begin on 17 January. The carnival of Patras is not a single event but a variety of events that includes balls, parades, hunting of hidden treasure, kids' carnival etc. Its characteristics are spontaneity, improvisation, inspiration and volunteerism. The Children's Carnival includes a parade with the participation of masqueraded children's groups from nurseries, kindergartens, musical schools etc. Over 5000 children participate whereas the festival is completed by numerous game events and constructive activities. The closing ceremony is an extension of the traditional festivities based around the burning of the float of the Carnival King, with concerts, dances, a farewell to the carnival past, announcements about the carnival to come and countless fireworks.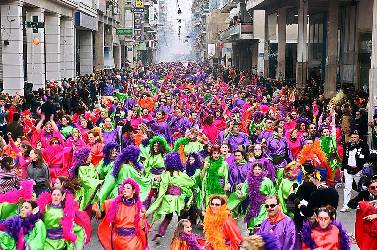 Patras Carnival
Photograph by Gontzi
Olympus Festival
June-July
Olympus Festival is an annual Festival of music and theatre which takes place at the Ancient Theatre of Dion in Pieria, northern Greece. The festival is supported by the Greek Ministry of Culture and the Municipality of Dion as well as by other local authorities in Pieria Prefecture. Many Greek singers, actors and actresses took part at the Olympus Festival during its 30 years of operation. Famous Greek artists like Maria Farantouri, Mario Frangoulis, George Dalaras, Nana Mouskouri, Anna Synodinou, Thimios Karakatsanis, Dimitris Mitropanos and many others have appeared at the Dion Theatre. The Olympus Festival takes place every summer in the town of Dion, just 10 km away from Katerini and less than 70 km far from Greece's second largest city, Thessaloniki.
Icarus Festival for Dialogue between Cultures
August
Icarus Festival for Dialogue between Cultures is an international music festival that began in the summer of 2006 in Ikaria. The festival is an annual event organized by all 3 municipalities of Ikaria, a Greek island in the northern Aegean that bears the name of the mythical flyer Icarus. Its purpose is to host performances by artists or groups whose music is a product of multicultural participation or inspiration. In recent years the festival has expanded to other forms of art, such as dance, theater, photography & painting exhibitions, dance lessons and cinema.