FESTIVALS AND EVENTS IN GERMANY
---
Berlin International Film Festival
February
Berlin International Film Festival is a great cultural event and one of the most important dates for the international film industry. With 274,000 tickets sold and 487,000 admissions it is considered the largest publicly attended film festival worldwide. The public programme of the Berlin International Film Festival shows about 400 films per year, mostly international or European premieres. Films of every genre, length and format find their place in the various sections. Around twenty films compete for the awards called the Golden and Silver Bears. The European Film Market (EFM), a film trade fair held simultaneously to the Berlinale, is a major industry meeting for the international film circuit once a year. The trade fair serves distributors, filmbuyers, producers, financiers and co-production agents. The Berlin International Film Festival is a source of inspiration in the global film community: film programmes, workshops, panel discussions, joint projects with other social and cultural actors – the forms of cooperation and the possibilities for creative interaction are countless.

Mail / Postal address: Berlin International Film Festival, Potsdamer Straße 5, 10785 Berlin, Germany
E-mail: info@berlinale.de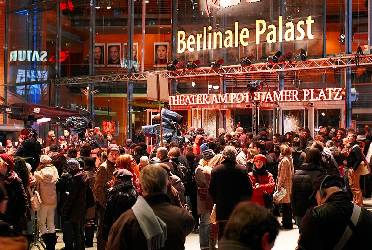 The Berlinale Palast during the Berlin Film Festival in 2007
Photograph by Maharepa
Rock am Ring and Rock im Park
June
The Rock am Ring and Rock im Park festival is held held annually in Germany. Rock am Ring takes place at the Nürburgring racetrack in the west of Germany, Rock im Park takes place around the Frankenstadion in the south of Germany. Both festivals are usually regarded as one event with a mostly identical lineup for both festivals. All artists perform one day at Nürburgring and another day in Nuremberg during the three day event. Together Rock im Park and Rock am Ring are the largest music festivals in Germany and one of the largest in the world with a combined attendance of just over 150,000 people usually selling out in advance.
Elbjazz Festival in Hamburg
May
The famous harbor of Hamburg, the second busiest port in Europe, turns into a stage during the international jazz festival. More than 50 concerts take place. Barges and ferries shuttle between venues – a boat trip with breath-taking sights of Hamburg's fascinating harbour is always included.With a wide variety of big stars and terrific newcomers, international bands and local heroes, the festival is appealing to a diverse audience and aims to win new listeners for Jazz. Experience exciting concerts showing everything Jazz has to offer at the Elbjazz Festival in Hamburg!

Mail / Postal address: Elbjazz GmbH, Große Elbstraße 277 a, 22767 Hamburg, Germany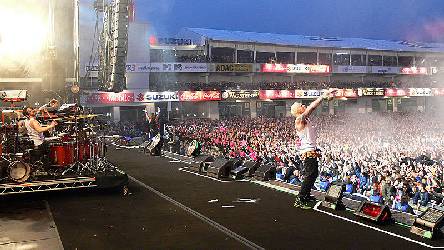 The Prodigy performing at Rock am Ring 2009
Photograph by Herr Stern
Oktoberfest
September
Oktoberfest is a 16-day festival held annually in Munich Germany, running from late September to the first weekend in October. It is one of the most famous events in Germany and is the world's largest fair, with more than 5 million people attending every year. Large quantities of Oktoberfest Beer are consumed, with almost 7 million liters served during the 16 day festival in 2007. Visitors may also enjoy a wide variety of traditional food such as Hendl (chicken), Schweinebraten (roast pork), Schweinshaxe (grilled ham hock), Steckerlfisch (grilled fish on a stick), Würstl (sausages) along with Brezeln (Pretzel), Knödel (potato or bread dumplings), Käsespätzle (cheese noodles), Reiberdatschi (potato pancakes), Sauerkraut or Rotkohl/Blaukraut (red cabbage) along with such Bavarian delicacies as Obatzda (a spiced cheese-butter spread) and Weisswurst (a white sausage).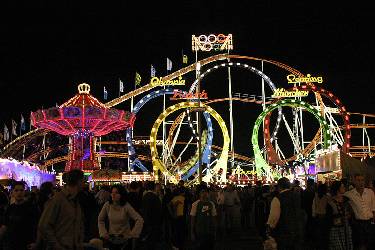 Oktoberfest, Olympia Looping at night 2005
Photograph by Bernhard J. Scheuvens
Rhein in Flammen
May-September
Rhein in Flammen is the name of five different firework displays along the river Rhine in Germany. The displays take place annually, at various locations along the river. On the five different dates, brightly illuminated ships sail the river in an evening convoy for their passengers to see the full firework display at each location of the river. On the river banks wine festivals take place that attract hundreds of thousands of visitors every year. The biggest "Rhein in Flammen" event takes place in Koblenz every year, on the second Saturday in August. The Bonn event takes place at the Rheinauen Park in Bonn, on the first Saturday in May.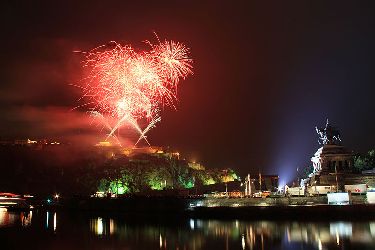 Rhein in Flammen 2011 in Koblenz
Photograph by Peter Stehlik
Carnival of Cultures
June
Every summer, Berlin celebrates its own special carnival, the colorful Carnival of Cultures. Over the last fifteen years, the numbers of participants and visitors have risen. In 2012, 1.28 million visitors celebrated at the street festival and the parade. About 4.800 professional and non-professional performers of all age groups took part in the parade on Whitsunday, accompanied by colourfully decorated floats. 900 artists performed during the four-day street festival. The Carnival of Cultures is open to everybody and all forms of cultural expression. It is regarded as a platform for a proud expression of hybrid cultural identities, containing traditional and contemporary elements. It includes and attracts all age groups, professional artists and amateurs, people from all walks of life. Berlins Carnival has been inspired by modern European carnivals like the Notting Hill Carnival in London and the Rotterdam Zomercarnaval. It has taken in elements of many traditional carnivals and celebrations from all over the world. By being open to cultural rites, customs and traditions it attracts performers from countries without carnival traditions. The inclusion of all these elements makes the Carnival of Cultures in Berlin quite unique.

Mail / Postal address: Nadja Mau, Stefanie Schatte & Vassiliki Gortsas, c/o Werkstatt der Kulturen,
Wissmannstrasse 32, D-12049 Berlin
E-mail: info@karneval-berlin.de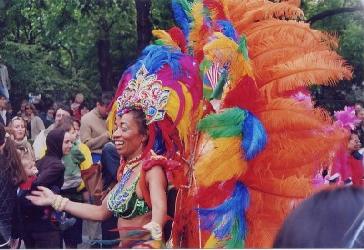 Carnival of Cultures 2006
Jazzfest Berlin
Novemeber
JazzFest Berlinis a jazz festival based in Berlin, Germany. The Berlin Jazz Festival is a world renowned festival that presents all the manifold and diverse styles of jazz. The tightly arranged, varied programme is equally traditional and progressive, and has tended to focus in particular on big bands and large ensembles. Alongside the big American name artists the Berlin Jazz Festival also increasingly presents musicians from all quarters, artists whose music centres on crossing the borders between local folk traditions and global sounds and trends. Venues include Berliner Philharmonie, Haus der Kulturen der Welt, Volksbühne, Haus der Berliner Festspiele and the Jazzclubs Quasimodo and A-Trane. 2012 JazzFest Berlin will last for 4 days from 1st to 4th of November

Mail / Postal address: Berliner Festspiele, Schaperstraße 24, 10719 Berlin
E-mail: jazzfest@berlinerfestspiele.de
Nature One
August
Nature One is one of the largest European open air Electronic music festivals, featuring many renowned DJs from Germany and all over the world. Nature One costs an admission of approximately 70 Euros (2010). In the past the festival has had an attendance of roughly 53,000, with over 40,000 using the nearby fields for camping over the weekend. Acts that have performed in the past have included Moby, Armin van Buuren, Paul van Dyk, Andy C and Carl Cox. Nature One has 2 main evenings with additional smaller events from Thursday till Sunday. As a special attraction there is a fireworks display on Saturday evening.

Mail / Postal address: I-Motion GmbH, Am Hohen Stein 8, 56218 Mülheim-Kärlich
E-mail: info@i-motion.ag
Popkomm
May-June
Popkomm is an international trade show for the music and entertainment business, and also integrates a congress and festival. It is held in Berlin but has had entries from at least 55 other countries. Popkomm first took place in Düsseldorf in 1989, and at the time was a meeting place of little-known independent musicians. The Popkomm Showcase is the live music segment of Popkomm. Bands and artists have the opportunity to perform in front of decision makers and important media people. In 2006 Popkomm organised stage performances by over 2,000 musicians from 26 countries, over 400 acts performed more than 600 hours of live music at 30 clubs in Berlin, in front of audiences totalling 70,000.

Mail / Postal address: Popkomm Messe Berlin GmbH Messedamm 22, D-14055 Berlin
E-mail: info@popkomm.de