FESTIVALS AND EVENTS IN FINLAND
---
Pori Jazz
July
Pori Jazz is a large international jazz festival, held annually in the coastal city of Pori, Finland. It is one of the oldest and best known jazz festivals in Europe, having been arranged every year since 1966. At the moment Pori Jazz Festival is the biggest, most well known and most popular summer event in Finland. The first festival was based on acoustic jazz but little by little electric jazz and other rhythm music, blues, soul, funk, hip-hop and the rich Cuban and Brazilian music took foot. Now Pori Jazz offers a broad contingent of the world's leading artists ranging from long-established figures to up-and-coming stars. About 70 per cent of the program is admission free. The main venue, Kirjurinluoto Arena, is the only open-air concert park in Finland that is built only for concerts and other happenings. The size of the arena is 5 hectares (12 acres) for amphitheater-type concerts plus 22 hectares (54 acres) for camping. Numerous world-famous musicians including James Brown, Phil Collins, Miles Davis, Alicia Keys, Jamiroquai, Macy Gray, Kanye West and Sting have performed at the festival through the years.

Mail / Postal address: Pori Jazz 66 ry, Pohjoisranta 11 D, FI-28100 Pori
E-mail: festival@porijazz.f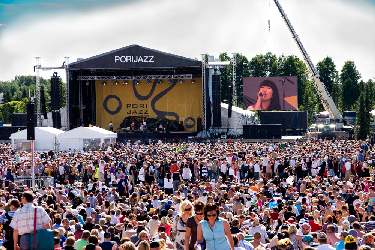 Carlos Santana and Esperanza Spalding at Pori Jazz
Photograph by Johnny Perkka
Helsinki Film Festival
September
The Helsinki International Film Festival - Love & Anarchy is a non-competitive film festival held since 1988 in Helsinki, Finland, yearly in September. The aim of Finland's biggest film festival is to promote the artistry of filmmaking alongside inventive, controversial and visually stunning new films. The festival also seeks to screen films that would otherwise not be seen in Finnish theatres. The festival programme consists of new films from well-known filmmakers and fresh talents alike. In its first few years the programme was heavily focused on Japanese and Hong Kong films. Since then, the programme has evolved; Asian films still play a part but films from all other continents feature too. During its 25-year lifespan, the Helsinki International Film Festival has expanded from two theatres to 12 screens and established itself as an 11-day homage to cinema. Today the programme consists of around 120 feature films and 80 short films.

Mail / Postal address: Helsinki International Film Festival, Love & Anarchy, Mannerheimintie 22-24, PO Box 889, 00101 Helsinki
Tel: Tel. +358-(0)9-684 35230
Funky Elephant
April
Funky Elephant is an annual springtime music festival in Helsinki, Finland. It's dedicated to a vast variety of styles within black rhythm music. Genres represented include funk, soul, Hip hop, jazz, Latin, reggae, afrobeat etc. The festival is held at Tavastia Club and its smaller sub-club downstairs. During the years, the festival has had such performers as Sharon Jones & the Dap-Kings, Roy Ayers, Joe Bataan, Tony Allen and DJ Vadim & One Self. Overall, the festival has had over 100 live performances and over 70 DJs. The organizer is Funky Amigos, which is a non-profit association. Its aim is to enhance the status of modern rhythm music scene and its artists in Finland. In wider prospect, Funky Amigos also wants to encourage multi-culturality and tolerance.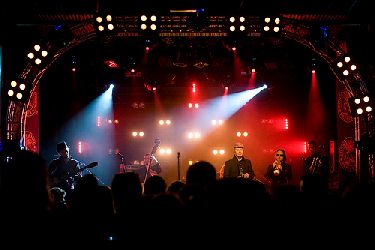 Funky Elephant 2010, Tavastia Club
Photograph by Lauri Lundahl
Konemetsä
July
Konemetsä - Open Air Forest Festival is an electronic music festival held in South West of Finland in the village of Ollila in Marttila county. The characteristic aspect of the festival is that the music is played continuously 24 hours / day on four stages. Other characteristic aspects are that the Main Stage is in the middle of a forest surrounded by a natural amphitheatre. The age limit is 18. Minors are welcome but only when accompanied by a responsible parent. If you bring your kid, please do remember to bring ear protection equipment as well. The sauna is one of the most characteristic parts of Konemetsä. It's warmed up before the festival and it's kept hot during the whole event. Showers are located in the sauna area. The camping area is open for audience from 12:00 (noon) Thursday 2nd July. Camping is free and restricted mainly to the fields.
Kaustinen Folk Music Festival
July
Kaustinen Folk Music Festival is celebrated yearly in July in Kaustinen, Finland. It is the biggest folk music and dance festival in the Nordic countries. It was first celebrated in 1968. Today the festival lasts nine days and is visited by over 100,000 people. There are over 3,000 performers from Finland and other countries every year. Every year the festival nominates the Master Folk Musician, the Ensemble of the Year, and Festival Ensembles amongst prominent Finnish folk musicians. The main venue of the Folk Music Festival is the Festival Park. The comfortably spacious and leafy park setting guarantees a genuine Kaustinen summer feel, regardless of weather. The Festival Park provides comprehensive services and is also designed to accommodate visitors with limited mobility. Families with children are also catered for with a large playground and a special Children's Tent.

Mail / Postal address: Kansantaiteenkeskus, Jyväskyläntie 3, 69600 Kaustinen, Finland
E-mail: info@kaustinen.net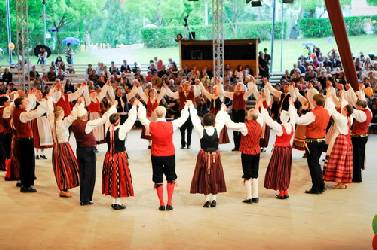 Kaustinen Folk Music Festival
Baltic Circle Festival
June
Baltic Circle is an international contemporary theatre festival that takes place every November in Helsinki, both in theatre venues and on different sites in the city. Baltic Circle functions in the context of European contemporary performing arts, and it is a platform for developing new trends and ideas. Baltic Circle presents new talents of contemporary theatre as well as organizes training programs, seminars, workshops, discussions and club events. It is a meeting point and full-service festival where artists and audiences come together to explore art and enjoy the luxury of inspiring festival atmosphere. Baltic Circle functions in the context of European contemporary theatre and performing arts, and focuses on bringing the artistic communities of the Baltic and Nordic countries together. The festival is a work of art that takes a stance and challenges its participants to engage in dialogue.

Mail / Postal address: Baltic Circle Office, Tunturikatu 16, 00100 Helsinki, Finland
ANTI – Contemporary Art Festival
September
ANTI - Contemporary Art Festival is a yearly international live-art festival which uses modern cityscapes as a stage for its contemporary art performances and installations. The ANTI – Contemporary Art Festival focuses on time- and site-specific works. The festival showcases live art and works based on sound and images as well as on text by some of the most interesting and innovative contemporary artists. The event has garnered interest mainly because of its original staging and mix of local and international artists. ANTI is free of charge except for the opening seminar. The context-based performances and installations exhibit arts from sculpture and environmental art to dance, live art and live performances. This year the ANTI - Contemporary Art Festival programme works on the themes of man's relationship with nature and the connection between sexuality and the body as well as the natural state of the human body. Special events will be arranged this year for the youngest festival guests in the Children's ANTI programme. The ANTI Festival will feature a first-class seminar this year. The lecturers at the Nature - Body - Sex seminar are internationally recognised experts in the field.

Mail / Postal address: ANTI - Contemporary Art Festival, Minna Canthin katu 4 A, 4th floor 70100 Kuopio, Finland
E-mail: info@antifestival.com