FESTIVALS AND EVENTS IN CUBA
---
Carnival of Santiago de Cuba
July
The Carnival of Santiago de Cuba is a large public celebration as far back as the 17th century. The history of Carnival in Cuba has been nuanced by a wide variety of interests and influences. Many of the practices and events within carnival culture has resulted from over one hundred years of multicultural Cuban history. Carnival has very much been the basis for traditional celebrations in Cuba. Today in Havana, Mantanzas and Santiago de Cuba, Carnival is celebrated on July 18-27. Today in Havana, Mantanzas and Santiago de Cuba, Carnival is celebrated on July 18-27. The main activities at this festival are music, dancing and consumption of large quantities of alcoholic beverages. The most aspect of the present-day carnival of Santiago are the parades and street performances. The Cuban carnival is distinguished by its accompanying music, the scenography and the choreographed dance steps that are performed. The carnival also has floats. Characters in the floats perform elaborate dances combining salsa, mambo, cha cha and all sort of tropical rhythms.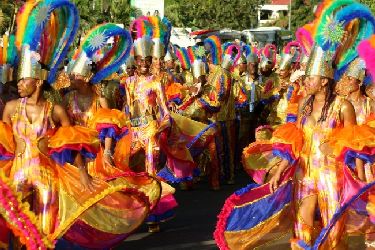 Carnival of Santiago de Cuba
Parrandas
December
Parrandas are a traditional carnival-like street party with origins date back to the 18th century. The carnival takes place in northern and central cities of the former Las Villas province (now divided into Villa Clara, Sancti-Spiritus and Ciego de Avila provinces) in Cuba. Second most popular are celebrated in Camajuani. Modern Parrandas also come associated with all sort of vendors and activities on the side. Snacks like candies, pork and ham sandwich, pizza, traditional rice with pork and yucca, handmade toys and craft can be found all over. While every town possesses their own particularities, Parandas in general, follow a very similar structure of events based on their roots and traditions. The final event usually ends with fireworks and pyrotechnics. When the regular fireworks are finished the "mortars" are lit as well. This type of firework makes a really loud "canon like" sound that announces the end of its district display.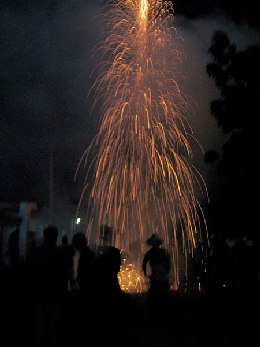 Pyrotechnics lighting up lines of fireworks in 2007 Parrandas
Photograph by Lezumbalaberenjena
Marabana Marathon
November
Marabana, is the name a popular marathon in Cuba. Since 1987 the Marabana has been held in Havana, Cuba, during the month of November. It contains both a half marathon and a marathon in a circuit around the most central avenues in Havana, starting and finishing in Old Havana. The race route affords runners lots of historic sightseeing. The route passes through many areas of the city, along the waterfront Malecon overlooking the bay of Havana, old, stately buildings, the old town with its wealth of colonial buildings (modeled after the Capitol in Washington), past monuments like the Capitolio, the Cabana fortress at the harbor entrance, the famous Hotel Nacional, the Revolution Square and the Parque Central.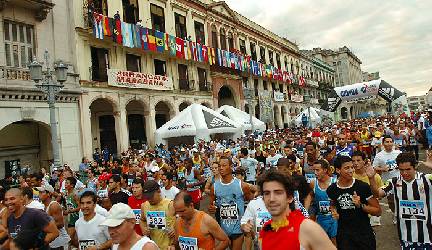 Marabana Marathon, Havana
Havana Film Festival
December
The Havana Film Festival is a Cuban festival that focuses on the promotion of latinamerican filmmakers. It is also known in Spanish as Festival Internacional del Nuevo Cine Latinoamericano de La Habana, and in English as Festival of New Latinamerican Cinema of La Havana. The festival first began on December 3, 1979. The president of the first organizing committee was Alfredo Guevara and more than 600 film directors of Latin America responded to the first call made by the Cuban Institute of the Cinematographic Art and Industry (ICAIC). Millions of film buffs across Cuba attend the event which has served as a launch pad for Latin American cinematography and become one of the leading film festivals of the region. The variety and creativity of films shown at the Havana Film Festival every year has attracted celebrities such as Steven Spielberg, Pedro Almodóvar, Francis Ford Coppola, Carlos Saura, Oliver Stone, Robert Redford, Jack Nicholson, Robert de Niro, Jack Lemmon, Gregory Peck, and Danny Glover, among many others

Mail / Postal address: Festival Internacional Del Nuevo Cine Latinoamericano,
Calle 2 No. 411, entre 17 y 19, Vedado, La Habana Cuba CP 10400
E-mail: festival@festival.icaic.cu
Cine Pobre Film Festival
May
The Cine Pobre Film Festival, based in the coastal city of Gibara in the eastern province of Holguín, Cuba. It is one of the most popular event of the alternative film circuit. The catalogue contains both quality and diversity. Filmmakers from every continent are represented, from countries with a long-established cinematic tradition (United States, India, Germany, France, Burkina Faso) and others with an emerging industry (Chad, Ecuador, Lebanon, Macedonia, Mauritania).
Camagüey Theater Festival
August-September
The 14th edition of Camagüey's Theater Festival, to be held in September 8-15, will include in its program plays by Cuban playwright Virgilio Piñera and some others inspired in his life and work on the occasion of the 100th anniversary of his birth. According to the artistic show's program, El Público, Argos Teatro and El Taller theater groups from Havana, and A Dos Manos from Santiago de Cuba, will be in charge of the staging of this author's legacy, one of the most outstanding of the 20th century in Cuba. Camagüey Theater Festival consists of street theatre, plays for children, productions in honour of esteemed Cuban directors and actors comprise just some of the performances at the Camagüey Theatre Festival every year. Camagüey's many theatres take part and there are also book and magazine launches.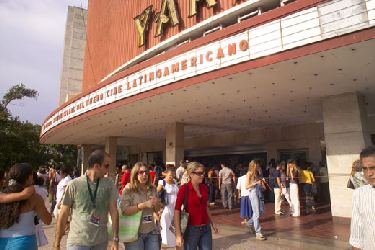 Havana Film Festival, The Karl Marx Theatre