FESTIVALS AND EVENTS IN CHILE
---
Viña del Mar International Song Festival
February
Each year in February, Chileans and many music lovers around the world celebrate the Festival of Viña del Mar. It is a music festival held annually during February since 1960 in Viña del Mar, Chile. It is considered the most important musical event in the Americas. The Festival features a song competition on two categories (pop music song and folk song), interspersed with performances by international music stars from around the world, encompassing such diverse genres as rock, pop music in various languages, merengue, salsa, reggaetón and others. Although the festival started as a musical competition, it has changed a lot over time. The event takes place in the Quinta Vergara Amphitheater. In 2009, artists such as Latin sensation Daddy Yankee and British legend Simply Red captivated the audience of Viña. On its 50th edition, this famous festival was hosted by Felipe Camiroaga and news reader Soledad Onetto. The main program often doesn't start until 10:00 at night and sometimes doesn't finish until 2:00 or 3:00 in the morning.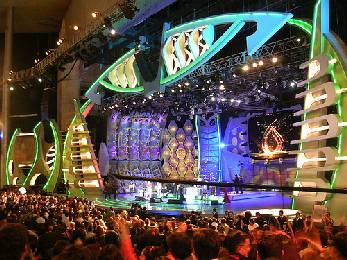 Franz Ferdinand opening the Viña del Mar International Festival
Photograph by Dubo.cl
Lollapalooza
April
Lollapalooza is an annual music festival featuring popular alternative rock, heavy metal, punk rock and hip hop bands, dance and comedy performances. Lollapalooza has featured a diverse range of bands and has helped expose and popularize artists such as Arctic Monkeys, Foo Fighters, The Killers, Skrillex, 30 Seconds to Mars, Jane's Addiction, Kanye West, MGMT, Björk, Tinie Tempah, Sublime with Rome, Foster the People, Calvin Harris, Armin Van Buuren, Deftones, and many others.
Fiesta de La Tirana
July
Fiesta de la Tirana is an annual festival held in the locality of La Tirana in Tarapacá Region of northern Chile. The celebration takes place on July 16 in honor of Virgen del Carmen. La Tirana is the biggest geographically localized religious festivity in Chile and attracts between 200,000 and 250,000 visitors during the week of celebrations, while the villages population is normally of 560 inhabitants.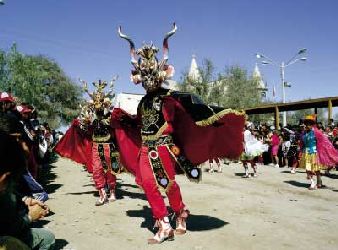 Fiesta de La Tirana
Photograph by Danzarte Concepción
Maquinaria Festival
November
Maquinaria Festival is a festival held in Chile, which gathers different musical styles and brings the grandeur of European festivals of music. The 2012 edition will take place on November 10th and 11th, in Club de Campo Las Vizcachas, Puente Alto. Some artists confirmed are: Marilyn Manson, Slash, Gogol Bordello, Slayer, Nero, Deftones, Knife Party, Camila Moreno, Stone Sour, Criminal, Jorge Gonzalez, and others. This edition has the option of camping inside the venue, which is an available option only for those who bought the first tickets to Maquinaria.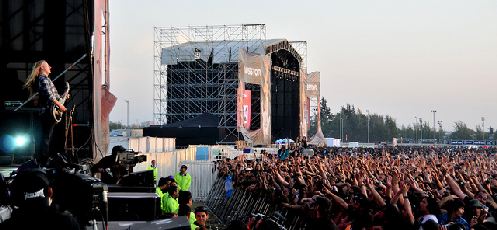 Alice in Chains performing at Maquinaria Festival
Vuelta Ciclista Por Un Chile Lider
August
Vuelta Ciclista Por Un Chile Lider is an elite men's professional road bicycle racing stage race held annually in Chile. The Vuelta Lider was created in 1997 by Lider, the largest supermarket chain in Chile, and is sanctioned by the Chilean Cycling Federation (Federación Ciclista de Chile). The Vuelta Lider is the largest cycling race in Chile and serves as an important stop on the UCI America Tour.
Chile Classic
March
The Chile Classic is a golf tournament on the Nationwide Tour. It is played annually at the Prince of Wales Country Club in Santiago, Chile. It is one of several tournaments on the Nationwide Tour held outside the United States. The 2012 purse was $600,000, with $108,000 going to the winner.
VTR Open
October
The VTR Open is a professional tennis tournament played on outdoor red clay courts in Viña del Mar, Chile. It is currently part of the ATP World Tour 250 series of the Association of Tennis Professionals (ATP) World Tour. Many top-ten players have participated in this tournament, including: Mats Wilander, Jim Courier, Jiří Novák, Marcelo Ríos, Carlos Moyà, Gustavo Kuerten, Àlex Corretja, Tommy Haas, Magnus Norman, Sergi Bruguera, Guillermo Coria, David Nalbandian, Gastón Gaudio, Fernando González, Tommy Robredo, Nicolás Lapentti, Álbert Costa, Alberto Berasategui, Emilio Sánchez, Guillermo Cañas, Mariano Puerta, Nicolás Massú, David Ferrer, Fernando Verdasco, Fabrice Santoro and Félix Mantilla.